Please see the latest update from our Town Clerk Paul below:
Update from Frome Town Council No. 84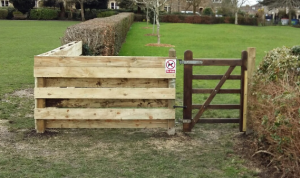 Improving the Frome's open spaces
It's always easy to forget the normal day-to-day work that goes on around the town. Things that contribute to making Frome such a great place to live. Here are a couple of examples from the past few days:
Like most open spaces and parks, we suffer with dog owners not picking up their dog's poo. While all our play parks do not permit dogs at all, Victoria Park allows dogs, and for limited times of the day, dogs off leads. We have just completed some fencing works so that there is at least one are of Victoria Park that has no dogs to allow picnics etc without the fear of sitting in poo. This picture shows what we've done this week.

We also work closely with our Allotments Society…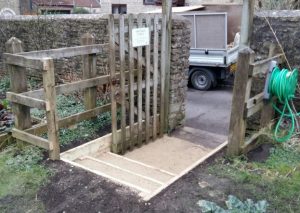 Our Ranger team have recently installed new steps into the allotments on Orchard Street. If you'd like to know more about what our wonderful ranger team does why not drop Chris Stringer an email here and he'll fill you in. There are also an ever-increasing range of volunteering opportunities offered on our open spaces too.Frome Town Hall
I'm delighted to let you know that We Hear You, Fair Frome, Active and In Touch and Frome FM are all about to or have signed tenancy agreements with FTC to join us at Frome Town Hall. We're getting a lot of interest in hiring the beautiful Council Chamber and the other meetings rooms available. We will be open to the public from Monday 3rd April, although there will be an open afternoon on Saturday 1st April for anyone who wants to come and have a look around.
Changes to some services at Frome Information Centre
Frome Information Centre is now based at the Frome Town Hall. We accept that there will be some residents who might not be able to continue to visit us in person so we're in discussion with the Cheese & Grain about establishing an information point there. We will be improving signage in the town centre and making better use of noticeboards for information for visitors and residents alike. As an interim measure, in the library, we have an unstaffed information point providing material for residents and visitors on town events, projects, and services. Click on our website here.Cycling on prescription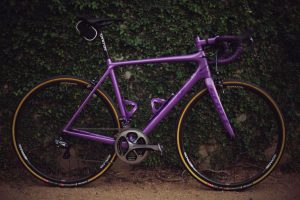 We all know that cycling is good for your health and a more environmentally sustainable mode of transport than cars. We've been working closely with Frome Medical Practice and have set up a new Cycling on Prescription programme. It's a first for Somerset. If you'd like to know more come along to Frome Medical Practice on Thursday 23rd March 5-6.30pm. If that's not possible but would like to know more or get involved, give Health Connections Mendip a call on 01373 468366 or email FTC's Resilience Officer, Cara Naden. This programme is a collaboration between Frome Medical Practice, Frome Town Council, Health Connections Mendip and Love to Ride. For an introduction click on our website here.International work experience pilot gets underway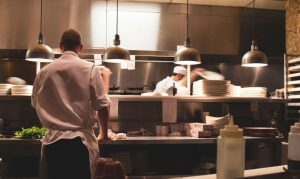 Following earlier work with employers and those in one of our twin towns – Murrhardt – our international work experience pilot started this month. Two young people from Murrhardt are spending two weeks with Solicitors, Harris & Harris and the Old Bath Arms. These two businesses have kindly opened their office and kitchen to enable the two-young people to gain valuable experience and a feel of what it's like to work in this country.
Thanks to both businesses and the host families who are providing accommodation.  Thanks also to Terry Bishop, Apprenticeship Project Coordinator at Frome College who has worked tirelessly to get this project off the ground. We are working towards a return trip for young people in Frome later in the year.  This initiative is one of the products of the Thematic Networking Programme that FTC and Frome Twinning Association have supported over the last two years.  For more information, please contact Peter Wheelhouse