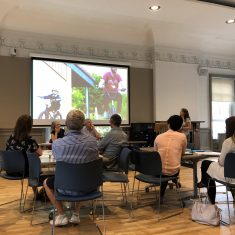 Councillor Shelia Gore welcomed everyone to the meeting which got off to a quick start with Project Officer, Emma Parker giving an update on the walking and cycling projects she has been working on.
She started with the fact that Frome has now secured Walkers are Welcome status, with a launch event planned for September this will mean better maintained walking routes and a boost in visitors. She also mentioned the growth in E-bike use with 79 rentals so far this year. The School Travel Challenge has been a great success with families increasing their active journeys by an astonishing 20%. You can watch a video about the School Travel Challenge.
She then asked everyone to take a bit of time to think about how we can encourage more sustainable and active travel around Frome. The room came up with some great ideas: Cyclists are Welcome, a bike exchange and, of course, completing the Missing Link for better cycling and walking access to and from Frome.
Environment Manager, Chris Stringer was then up to addressing the issue of about stray balls from the popular Multi Use Games Area at Mary Baily landing in the Bowls Club. Although the fence height was raised to 5 metres in Spring 2016 balls still find their way into the club causing a number of issues.
After a discussion it was decided that Sheila and Chris will work with the Bowls Club to come up with a suitable fence or net and in the meantime Rangers will continue to repair any holes in the hedge and signage requesting that people do not retrieve balls will be installed.
Chris then moved on to the management plan for Weylands which has been formed as result of consultation with over 100 people. The feedback was overwhelmingly positive with people keen that the peaceful, open and natural green space stays as it is with the addition of some more seating and dog waste bins. You can read the report here.
Rachel Griffin, Marketing and Communications Manager was next to give an update which focused on the increasing use of the busy and vibrant Town Hall. She explained that there are two new tenants; Fair Housing for Frome and Frome Learning Partnership and the space is well used by Frome Town Council who have hosted lots of events in the last few months such as Improve Don't Move, Parking Meeting, Plastic Ocean Screening, Clean Healthy Future Meetings and the Apprenticeship Conference.
Although income remains at risk there has been an improvement of £10,000 since the last report as well as the addition an extra £5,000 resulting from events. Achieving the relevant licences for events and weddings is moving forward so watch this space for an update soon you can also find out about hiring the Town Hall for your event here: www.frometowncouncil.gov.uk/your-business/frome-town-hall/
The meeting finished with a short financial update from Paul Wynne the Town Clerk, who highlighted that the internal auditors report shows no concerns. He then also noted the staff leavers and starters report. You can find out more about our staff team here.
The details of everything mentioned above can be found at www.frometowncouncil.gov.uk and the next Council Matters meeting is taking place on 5th September same time, same place. Follow us on Facebook, Twitter and Instagram to keep updated on everything we're up to.