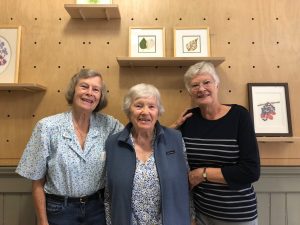 The latest display on show at Frome Town Hall has arrived and features the work of 'Late Bloomers', three women who have found the joy painting later in life.
Shirley Hawkins, Margaret Wescott and Hazel Simpson met at an art class and with their love of water colour painting decided to band together to become the Late Bloomers.
They have created a series of paintings for the display, which will run throughout September, with a focus on flowers that they hope will be enjoyed by residents.
It follows local painter and illustrator Amy Yates' showcase of work which was created in her Frome based studio and featured her unique and distinctive multi-faceted impressions of familiar townscapes.
Frome Town Council keeps a rolling series of displays on the exhibition board relating to community, organisational and commercial topics in Frome. Anyone can come in and view the exhibitions at the Town Hall, Christchurch Street West, Monday 9am- 5-pm and Friday 9am – 4.30m.
You can find out more about the exhibition board here and if you would like to use this space, either as a community group, a local organisation or a community artist, contact Frome Town Council by email on info@frometowncouncil.gov.uk.