Plans are well underway for the annual and much anticipated Frome Christmas Light Switch On. There will be a magical Light the Night lantern parade through the town centre led as ever by Jamma de Samba.
Each year the procession has a theme and this year we are embracing the cold as the theme is Ice, so get your creative thinking caps on for your creations.
There will be the usual treats in store with music and food available and the Christmas light switch-on itself with some added flair from the Mayor of Frome.
Mayor Philip Campagna said, "This event is always a winner and a great way to bring together the community. I hope to embrace other cultures this year and am very much looking forward to the ice theme and the entertainment. This year is sure to be better than ever. You do not want to miss out!"
If you'd like to join the procession, lantern kits are now available to buy from Frome Town Hall, Discover Frome Information Point at the Library and the Share shop.
There will also be lantern workshops for those looking for some ideas and inspiration. A family workshop will take place at the Library on the 21st October from 10 – 11.30. There will be more workshops at the Silk Mill between the 17th and 22nd November where you can make your own penguin, snow person, icicle or snowflake bauble. These workshops are free to attend, we just ask for a contribution towards material costs.   
A first this year, Frome Lanterns are offering a special one-day advanced adult workshop for a very limited number where people can develop their lantern making skills with Mel and Aliss for £40.
Christmas will begin at 4pm with the Little Night Market in the market yard offering seasonal food, drink and gifts and of course our fantastic Frome venues will all be open across the town.
Booking for workshops is essential and will be available via the Frome Lanterns website: www.fromelanterns.co.uk
So make sure Friday 24th November at 5pm is firmly in your diary and keep an eye on Frome Town Council's website for more details of the parade.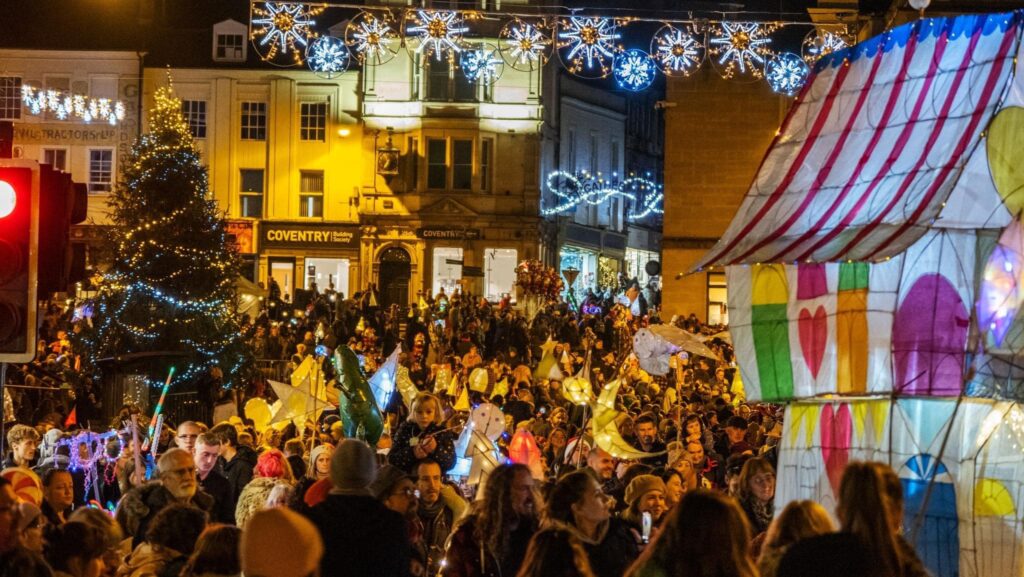 Workshops:
Frome Library: Saturday 21 October 10am – 11.30 – Family workshop
Frome Town Hall: Sunday 12 November 10am-3pm – Advanced adult workshop (£40 each)
Silk Mill:
Friday 17 November 5-7pm – Basic skills demo, instructions and kits (not a making workshop)
Saturday 18 November 10am-12.30pm – Penguins
Saturday 18 November 1.30-4pm – Penguins
Sunday 19 November 11am-1pm – Snow People
Sunday 19 November 2-4pm – Snow People
Tuesday 21 November, 6-7.30pm- Snowflake baubles
Wednesday 22 November, 4-5.30pm – Icicles