Keeping computers and servers secure in the workplace was the topic for the latest Frome Business Breakfast held this week at The Assembly Rooms.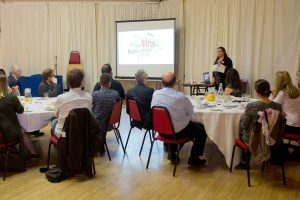 Cath Puddick a Frome Town Councillor who works for Cisco Systems joined the monthly business gathering and gave a fascinating presentation on Cyber Security; highlighting the various ways that viruses, scams and hackers might take advantage of less secure IT work systems – potentially affecting any type of business from freelancers with just a laptop to larger companies using servers.
Breakfast attendees heard that employees using non-secured personal phones, tablets and laptops connected to work Wi-Fi networks was also a potential risk. Cath discussed the ongoing anxiety relating to phishing scams and ransomware where emails from supposedly trusted sources were in fact from scammers attempting to access people's personal information. After listening to some fairly serious points the gathering of local business owners worked in groups, discussing issues that concerned them and more importantly sharing ideas and solutions.
The Frome Business Breakfast sessions which take place on the first Tuesday of the month are jointly organised by Frome and District Chamber of Commerce and Frome Town Council. They have become increasingly popular with themes such as business strategy and economic development attracting sell out audiences.  Attendees need to book a place at the event in advance. The next breakfast event takes place on Tuesday 4th October at The Old Church School and features a presentation by ADD International the disability rights organisation, who actively work on employment for people with disabilities. The cost including a full English breakfast with tea and coffee is £10.
For more information on the Frome Business Breakfast events contact Charlie Orr on 01373 465757 or email orrc@frometowncouncil.gov.uk