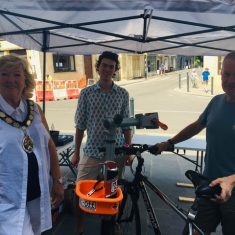 Our Dr Bike sessions are being held every Saturday throughout August – the sessions have proved so popular, the original slots had sold out, so more have been added!  If you're not sure what they are, the Dr Bike sessions are a free cycle surgery – a qualified mechanic checks over your bike and makes minor amends should they be needed; the sessions so far have seen replacement brake pads, inner tubes and cables.
Mayor of Frome, Anita Collier, said: "I attended the first Dr Bike session and could see the mechanic hard at work, and as slots are pre-booked, there's no issue with social distancing.  We know that cycling has had a recent resurgence within the town, so we are pleased to now be able to offer some more Dr Bike sessions and some bike maintenance classes too.  Coupled with the training that is taking place in September, we will have the whole of Frome leaving the cars behind and jumping on their bikes soon!"
Due to the popularity of the Dr Bike sessions, we have added some more sessions across the various Saturday's in August and September.  To reserve your place, visit: www.buytickets.at/frometowncouncil/395742 The safety checks are free but there will be a £1 booking fee.
In addition to this, we are also pleased to offer basic bike maintenance sessions, in socially distanced groups of up to 3 people. In these sessions a mechanic will guide you,  you'll pick up some basic skills to keep your bike in good shape and to fix minor repairs at home.
The sessions will include repairing a puncture, changing an inner tube, replacing and adjusting brake blocks, chain and gear maintenance, plus plenty of chance to ask questions.
You will need to bring your own bike to work on and the mechanic will demonstrate on his bike. There will be tools available to borrow but if you have your own please bring them along to practice using them. The sessions will take place near the library on Saturday 29th August; social distancing will be in place plus hand sanitiser and disposable gloves will be available. All sessions are free but must be booked in advance and require a £1 booking fee, visit: https://buytickets.at/frometowncouncil/405335
Places are also being snapped up on the cycling training days, so whether you're new to cycling or just want to increase your confidence on the roads, you can find more detail here: https://buytickets.at/frometowncouncil/395601
For more information, regarding any of the cycle events,  contact Emma Parker at Frome Town Council eparker@frometowncouncil.gov.uk
Published 13th August 2020