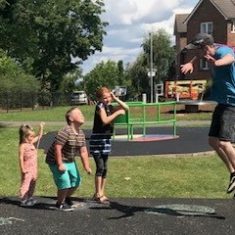 Many of us have been taking advantage of the good weather in our parks and open spaces during the school holidays.  Every Monday the Super Pirates have been popping up in various parks around town providing some fly-by fun. The play workers have been roaming around and have so far popped up at Welshmill, Victoria Park, Egford Lane and Rodden Meadow.
There are two pirates who are in Frome every Monday, in different locations, from 10am – 1pm.  For the remainder of the summer holidays they will be in the following spots:
Monday 17th August – Weylands & Tower View
Monday 24th August – Welshmill & Town Centre
Monday 31st August – Victoria Park & the Old Showfield
Cllr Maxine Crawley commented: "We've had such great feedback and the pirates have made such an impact; the kids looked like they were having a whale of a time! From chalk art to bubbles, from decorating the floor with mandalas and ribbon wand making – it's great to see the kids engaged and having fun safely, particularly if their normal school holiday activities cannot run."
The Super Pirates' mission is to inspire children to be the most awesome people they can be, they would normally be hosting summer clubs but in collaboration with FTC have adapted to bring some fun to the parks this summer – make sure you keep an eye out for them!
Published 14th August 2020