Trinity School has received an early Christmas present from Frome Rotary Club this week, with the arrival over 50 new books to complete their library.  As part of a wider initiative in the town to inspire children and their families to read together, 'Frome Reads' has come about from a rising concern over literacy levels in Frome.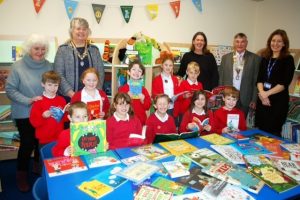 Frome Town Council has, as part of their focus on Wellbeing, hosted a series of meetings with professionals and community organisations working with people of all ages in the town; culminating last week in a literacy audit for Frome organised by the National Literacy Trust.  The audit, due to be published next month, identified a series of initiatives that would increase the reading, writing and communication skills of local people.
Frome Town Councillor Kate Bielby explains why literacy is not just a school's issue "Having good reading and writing skills affects all of us, they impact on our ability to complete forms, apply for jobs, read the information we are given by midwives, health visitors and doctors.  There is a proven link between literacy levels in older people and isolation and if children share stories with their parents at home they are more likely to do well at school.  We are working towards a whole town campaign in the coming year, which we hope will host a series of exciting and inspiring events across the town"
Teachers, children and parents at Trinity First School compiled the list of 50 'must read' books with the help of local children's author Michelle Robinson after The Rotary Club approached them to offer support towards the book project. Headteacher Amanda Seager said  "We would like to thank Frome Rotary and Frome Town Council for working with us to provide these books to fill the shelves in our new library area which we built earlier this year.  Our children are very excited about borrowing the new books to share with friends and family both in and outside of school – we hope they will be inspired to read more in the years to come."
The funding for the books came partly from the Hidden Garden event at Emblems Farm run by Frome Rotary Club with support of The Inner Wheel and also from funding from the Frome Rotary Shop in the Westway Precinct. Gerry Atkins president of Frome Rotary Club said "We were delighted to be able to fund these books and be a part of such a practical project in the town".
For more information and to find out how you can get involved in supporting the project in the coming year please contact hellardk@frometowncouncil.gov.uk
Pictured: Pupils from Trinity school, Headteacher of Trinity First School Amanda Seager, June Millard from EMBLEMS Farm (who did the open garden), Pam Brewster President of Inner Wheel, Gerry Atkinson president of Frome Rotary and Kate Hellard the Town Council's Community Projects Officer.