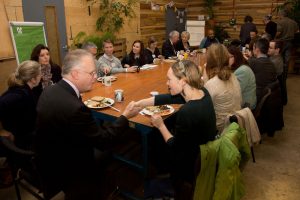 Frome Business Breakfast meets every first Tuesday of the month, aiming to support the vibrant business community in and around Frome. At next month's meeting Jenna Yhearm of Gumption, a social media agency based in Frome, will deliver an interactive session on 5 January 2016, highlighting the ins and outs of digital media and marketing. There will be plenty of opportunity for wider discussion and informal chat, so bringing business cards is encouraged.
A delicious buffet breakfast will be provided, with vegetarian and gluten-free options available! You can book online here .
Organisers would like to circulate attendees' company name and contact email address among those who attend. If you are not happy for your details to be shared in this way, please contact Laura Parry at parryl@frometowncouncil.gov.uk.
Co-organisers of this event are: Frome Town Council, Frome Chamber of Commerce, Archangel & Mairi Connelly of ampersonnel.co.uk
Photos by www.takingpictures.com/