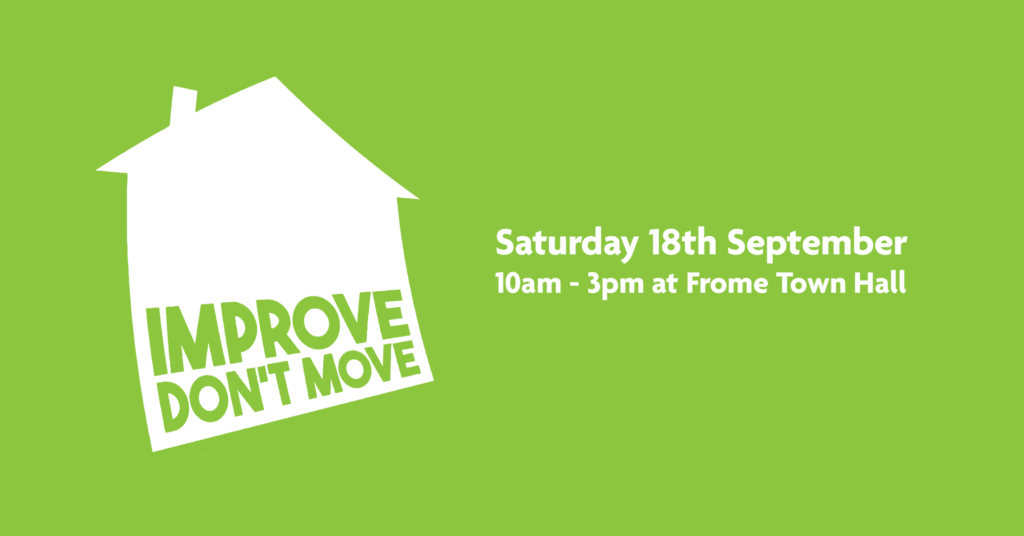 Improve Don't Move returns to Frome Town Hall for a third time, bringing together experts in sustainable renovation, interiors and garden design. Alongside the exhibition space there is a programme of talks throughout the day:
11am-12 Solar Streets – Frome Town Council and Frome Renewable Energy Co-op (FRECo) are working with local solar installer IDDEA on the next stage in the Frome Solar Streets project. The collective project offers significantly discounted solar PV panels for Frome residents when 10 or more households sign up. The Solar Streets team will be in Frome to answer your questions. The session will guide you through the installation process, provide information about new technologies which maximise panel output and savings of around 1.5 tonnes of carbon a year.
1-2pm Funding home energy improvements – An expert adviser from the Centre for Sustainable Energy will provide information on the various grants, subsidies and other financial support to help you improve the energy efficiency of your home, reducing bills and making your home warmer and healthier. Bruton's new Retrofit Coordinator will give a short overview of a new project which is assisting people to make low carbon improvements to their homes.
2-3pm PAAD architects – bringing low carbon to life in our homes. Find out about three ambitious low carbon projects which PAAD architects have embarked on in their own homes. Covering a zero carbon new build; deep retrofit of a Victorain terrace and the rescue and remodel of an iconic Frome building, this talk will demonstrate ambitious, achievable low carbon projects on our doorstep.
Architects (appointment only)
PAAD
PAAD are Frome- based architects with sustainability at the core of their practice, working on extensions to one-off houses to large residential, commercial and educational schemes.
Tonic
Tonic Architecture are a RIBA Chartered Architectural Practice delivering contemporary design, and re-use, refurbishment and extension of historic and listed buildings. They work throughout the country on all scales of private residential, development, public and education projects.
To book an appointment visit the Great Big Green Week ticket page
Energy advice and Funding
Centre for Sustainable Energy
The Centre for Sustainable Energy offer free and impartial advice on all aspects of home energy including insulation, heating, renewables, switching suppliers, managing bills and debt and applying for benefits and grant funding. Just drop in for a session with a qualified adviser.
Fair Housing for Frome
Fair Housing for Frome (FHfF) is a grassroots organisation that began in November 2015 when a group of local people met to discuss the housing crisis in our town. Its objective is to support the provision of decent, secure, affordable and accessible accommodation in Frome for local people.
Lendology
Lendology CIC is a unique not-for-profit lender, working with homeowners to fund home improvements. Their easy-to-use service offers low cost, responsible loans so that homeowners can afford to live in a safe, warm and comfortable home.
Renewable Energy
Valliant
Vaillant are a leading manufacturer of low carbon heating systems including Air Source and Ground Source Heat Pumps.
Solar Streets
The Solar Streets scheme was set up by Frome Town Council and renewable energy installer IDDEA to offer significantly discounted solar PV arrays for Frome residents. Come and speak to a member of the Solar Streets team to find out more and get an initial assessment.
Interiors
Kevin Corcoran carpets
Kevin Corcoran Carpets is a Frome based family run business. They will be showcasing new products made from recycled ocean plastics.
The Scaff Shop
Based in Frome, The Scaff Shop makes beautiful, affordable furniture out of reclaimed scaffold boards.
Garden Design
Angela Morley Garden Design
Angela Morley designs wildlife friendly gardens across Somerset and Dorset. She builds on her in depth knowledge of plants, flowers, ecology, no-dig, wildlife and woodland management to add richness to her gardens for both the wildlife and the enjoyment of its owners. Angela is happy to offer one off consultancy and planting plans through to the full design service.