Mendip District Council (MDC) has been supporting local businesses as high streets prepare to open again today, Monday 15th June. Residents are being encouraged back too, with the promise of safe town centres – and no car parking charges.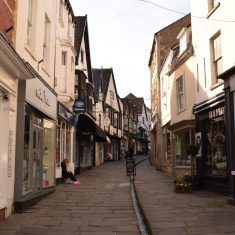 Working with local shops, Chambers of  Commerce, the emergency services, and city and town councils, plans are now in place to ensure shoppers and staff across Mendip can return to the high street and retail parks with confidence.
In the run-up to reopening, the MDC has been busy offering businesses advice on safety issues, social distancing and signage, using monies provided by the European Regional Development Fund for Reopening High Streets Safely.
Changes to travel will be implemented, to allow for the widening of pavements outside shops and to promote more walking and cycling commutes. The Council has been discussing these arrangements with Somerset County Council using emergency funding from the Government's Active Travel Fund.  We have listed all the changes, covering all Mendip towns in a table below.
In its commitment to supporting the recovery of the local economy, Mendip has also announced that market stallholders will pay no rent throughout June and July, and all Mendip-operated pay and display car parks will remain free for the foreseeable future. (Somerset County Council's civil enforcement officers returned to work on June 1st – residents please note when parking on roads, highways and pavements).
The shopping experience will look and feel different. The focus will very much be on the safety elements. Please help your high street thrive, while reducing the spread of Coronavirus, by following these simple steps:
Carry hand sanitiser with you
Stay two metres apart
Follow the guidance displayed in shops
Cashless payments, or exact change only please
Dispose of your rubbish carefully  (especially any gloves or masks, if you choose to wear these, as they should not be placed in recycling bins as they cannot be recycled through conventional facilities)
Look out for cyclists and other pedestrians
Be patient
Further businesses, such as restaurants and pubs, hairdressers and nail salons, could start to open in July, dependent on government advice.
Information and advice for businesses, guidance for shoppers, or residents with concerns – you'll find everything you need about all aspects of opening up the high street, including an extensive list of frequently asked questions (FAQs) here:
https://www.mendip.gov.uk/reopenhighstreet*Changes to travel are as follows:
Some of the key travel measures which will be prioritised for delivery over the next fortnight starting on Monday 15th June include:
| | |
| --- | --- |
| Frome | Frome Town Council is to provide access only to the Market Place from 22 June to enable Market Place improvement works with car parks remaining open and free |
| Street | Temporarily pedestrianise (with delivery vehicle access only) High Street from Leigh Road to Vestry Road (where market normally takes place). |
| Wells | No changes to highways requested – to be reviewed next week |
| Glastonbury | Temporarily pedestrianise (with delivery and bus access only) High Street, Magdalene Street and Benedict Street |
| Shepton Mallet | Shepton Mallet Town Council considering the temporary pedestrianisation (with delivery access only) of High Street from Market Cross (where the market usually takes place) to Park Road Roundabout from 18 June. |
| Wells to Glastonbury lane | Temporary closure (with residential / farm access only) of Long Drove following existing cycle route to facilitate safer cycling between the towns and support social distancing on public transport (Glastonbury – Wells bus service). |
Published 15th June 2020