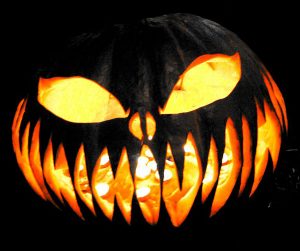 Halloween is just around the corner, and here in Frome there are plenty of events for kids (and grown-ups) happening between now and the 31st.
The Beckington Scarecrow Trail,  which has been taking place over half term, continues until Sunday the 29th. On Saturday evening, the HUBnub provides creepy crafts, bobbing apples and pizza for all the family at their Hallowe'en Party. 
Also on Saturday and Sunday, a magical woodland near Frome is transformed into the Hallowed Harvest takes. Expect fire performances, workshops and a three course meal with children's entertainment throughout. Choose a day and book tickets here: Saturday or Sunday
After a weekend of spook themed grown-up events, 23 Bath Street are holding a family Halloween party on Tuesday the 31st. Free entry, spooky remixes, decorations and face painting.
Have a look at all Frome events on discoverfrome.co.ukIf your kids will be out and about trick-or-treating
See if they can remember the words to the Scary and Safe Song (To be sung to the Tune of The Adams Family Theme Song):
We're going trick-or-treating, we're kind to those we're meeting, we give them all a greeting, of Happy Halloween
The journey has just started, we want to fill our basket, the Grown Ups will be helping, we're working as a team
We knock once on the door, but don't knock any more, if we don't know the person, we won't go in the house!
We're going trick-or-treating, we're kind to those we're meeting, we give them all a greeting, of HAPPY HALLOWEEN!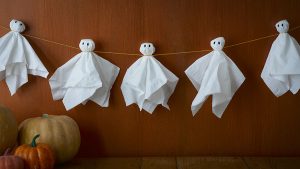 Send us your Pumpkin Pics
With so many creatives in town, we'd love to see what pumpkin and costume designs you and your families come up with. Send your pics to info@frometowncouncil.gov.uk
As an additional challenge, how about using recycled household items to create your pumpkin accessories, decorations and props?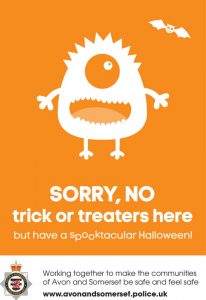 If you'd rather not be bothered in your home this year
Download one of these posters (right) from this Avon and Somerset Police webpage.  These can be displayed on your front door, or in a window.
You will also find some trick-or-treating safety advice there.