The hustings for the Somerton and Frome parliamentary seat provided a lively debate with a capacity audience and attendance from all 4 candidates:
Labour Party – Sean Dromgoole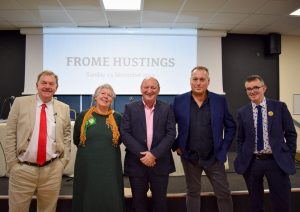 Green Party – Andrea Dexter
Conservative Party – David Warburton
Liberal Democrat Party – Adam Boyden
The hustings was split into two halves; the first half was chaired by the Mayor of Frome, Mark Dorrington and allowed all four candidates five minutes for their opening remarks. This was followed by four pre-selected questions that had been submitted by the public before the event.
Following a break, the second half was chaired by Deputy Mayor, Anita Collier and four further questions that had been submitted by attendees at the event.  All questions were assessed and chosen by the Town Clerk and a Councillor and represented a range of issues submitted.
Wrapping up the event, all candidates had the opportunity for closing remarks.
Frome FM broadcast the event live, if you were unable to attend the hustings, you can hear the recording here.
The register to vote deadline is 12 midnight on Tuesday 26 November visit  https://www.gov.uk/register-to-vote with your national insurance number, alternatively pop into the Town Hall where one of the team can assist.  Those with no fixed address but would still like to register may use the Town Hall address.
Published 25/11/19