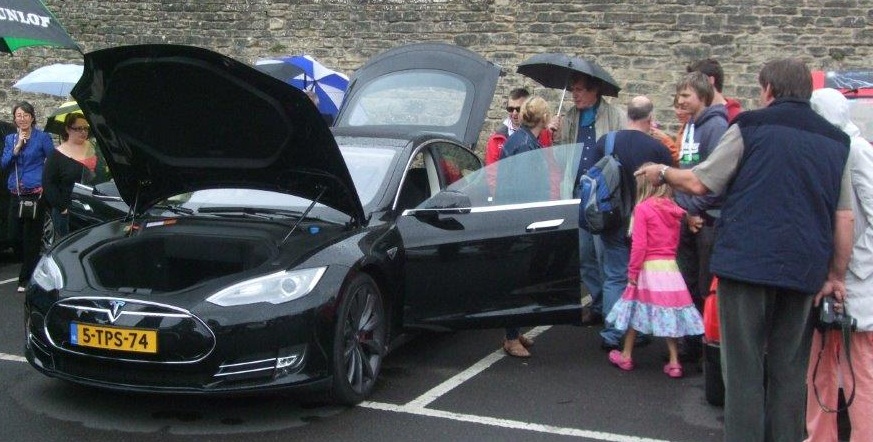 Over 50 people attended the electric vehicle event outside the Cheese and Grain on the 4th July, despite the rain. Co-organised by Anna Francis, Frome Town Council's Energy Officer and Councillor Graham Burgess, 16 vehicles were on display including Tesla's new Model S (which has a front boot instead of an engine!), a dinky refurbed Fiat 126, electric bikes, the Town Council's electric truck and a Nissan Leaf which is the proposed vehicle for Frome's new car club planned for later in the year.
Peter Macfadyen, the Town's Mayor and an electric car enthusiast said, "There's a buzz going around about electric vehicles, they have now become financially competitive with petrol vehicles and the range is over 200 miles for most new cars. I see the future before us and I want Frome to be part of it. Being able to hire an electric vehicle through Frome's new car club will be a fantastic way to enable more people to enjoy these benefits economically"
One electric car owner said, "If Frome had a charging point I would shop here but as it doesn't I have no choice but to travel to Bath." The question left hanging in the air was where would be the best places to install them. The Market Yard car park was the most popular place with those on Friday evening.
Contact: francisa@frometowncouncil.gov.uk for more info