Mendip District Council (MDC) has announced that some of their markets will return to our high streets from today, 10th June. It's another sign of Mendip on the move as its villages, towns and city reopen for business, post-COVID-19.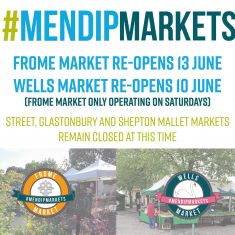 MDC has revealed that Wells and Frome Markets will be first off the blocks.
In coming to the decision, a complete review of layouts, traders and facilities at each venue was carried out, to ensure the markets meet the latest Government guidelines.
Frome and Wells markets were identified as best suited to support social distancing guidelines, and traditionally judged to have the highest footfall to generate trade for both the stallholders, and support the local shops.
Frome will open on Saturday 13th June, and continue operating on Saturdays only, until further updates.  Wells Market will open on 10th June and on 13th June, operating on Wednesdays and Saturdays moving forward.
As the national restrictions ease, Mendip will be working with stallholders to ensure their remaining markets begin to open too.
All Mendip Markets were suspended in March due to the Coronavirus emergency. During lockdown, the Council supported stallholders in innovative new ways. Some traders set up home deliveries, others advertised online through a 'virtual marketplace', hosted on the Council's website.
Cllr Nick Cottle, Portfolio Holder for Neighbourhood Services, said: "Safety has always been our first consideration, but we are delighted to announce that some markets will be returning to trade this week.
"We know how much our markets have been missed by residents and I look forward to the day when all our traders are out busy lining the streets again with their wonderful displays, first-class goods and excellent banter. They'll be well supported by the people of Mendip.
"These traditional markets bring life into our towns and city – and we want them back."
Published 10th June 2020