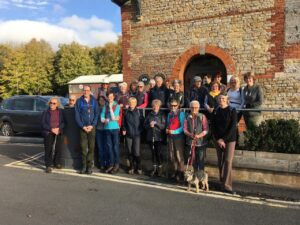 There are still a few tickets left for many of the walks in this weekend's Frome Walking Festival from 10th – 12th November.
This Autumn the walking festival, organised by Frome Walkers are Welcome and Frome Town Council, is returning with 18 varied walks (including 14 free walks) for all ages, interests and abilities. Although some walks are already fully booked, others have a limited number of spaces left.
Les Stather of Frome Walkers are Welcome, said:
"The Walking Festival is always a highlight and we're delighted that this year's programme has been as popular as ever. Whether you would like to come for a walk on your own or bring the whole family, for a gentle half-mile or a challenging 12-mile trek, make sure you snap up your tickets before they're gone."
A new Frome Walking Wheel map will be on sale from this weekend too. Designed by Frome Walkers are Welcome, the Frome Walking Wheel presents 54 miles of routes taking walkers on a journey through historic streets, beautiful green spaces and riverside paths following any combination of the 12 spokes in the wheel.
The Walkers are Welcome pop-up stall will be outside the Cheese & Grain over the weekend, offering the Frome Walking Wheel and many more local maps to help you enjoy self-guided walks year round.
Find out more and book your walking festival tickets: www.discoverfrome.co.uk/frome-walking-festival
You can also pop into Frome Town Hall or call 01373 465 757 if you would like any help booking your walks.