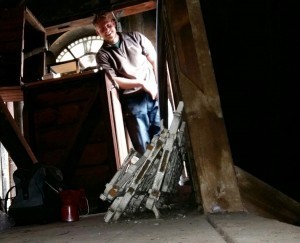 The clock situated on Christchurch st West on Frome's Town Hall has been given a new lease of life and is once again ticking. The black and white clock, which is one of the building's original features and was once illuminated by gas lamps, had been out of action for a number of years.
The original movement of the clock would have been previously wound on a weekly-basis to keep the clock ticking over. However it was replaced by Smith of Derby in 1981 with an electric synchronous movement with an auto restart unit driving into the dial. It was however recently found that there was a problem with this movement, and the latest repair means that the clock can self-start after a power cut, and automatically adjusts to the BST/GMT time changes.
The clock maintenance is part of the Council's in-keeping with the building's integrity, alongside the needed modernisations.