With the second series of Poldark now showing on BBC1, it seems timely to explain the role that Frome Town Council played in supporting the production team.
The filming of scenes in Frome took place over a few days in early December 2015. With Gentle Street identified by the production team's location scouts, the conversation with Frome Town Council began. This led to some ground work by the Town Council, keeping the area secure and helping with road closures. Two members of the team managed by Peter Wheelhouse, Jane Llewelyn and Mark Brookes were tasked with making the whole project possible; the production company were given extensive help, advice and contacts which resulted in the provision of secure crew parking on the edge of town and the building of relationships with local residents and St Johns Church – which became the hub for the production team.
Mammoth Screen had identified Gentle Street as the perfect location for a series of street scenes and in the two days before filming began the street was taken back in time to the late eighteenth century. The former pub became a pub again (at least on the outside) and wooden boats and market stalls gave the street the finishing touches.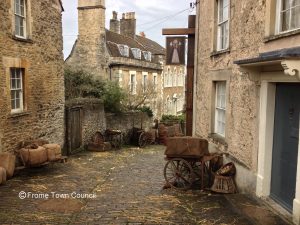 Jane Llewelyn said "Local residents were looked after by the team with happy local children being photographed with Aiden Turner and his co-stars. Security was tight, not many people got past the security team but that's just what the crew needed – a hassle free environment where they could get the shots they needed in the time allowed."
The filming of Poldark in Frome came about as the Town Council along with Visit Somerset intensified contact with Creative England, a major source of location information for film and television companies.  They have published their own blog looking at the locations used for Poldark at http://www.creativeengland.co.uk/story/poldark-series-2-filmedMark Brookes said "The working relationship with Creative England continues and also resulted in Channel 4 / E4 sitcom 'Wasted' starring Sean Bean, being filmed in Frome. Film and television tourism is big business and whilst Frome doesn't expect the increased level of interest that Poldark has brought to Cornwall, we do hope that the programme and potential filming in the future will go towards promoting Frome as a historic and fascinating town worth visiting. The film crews themselves also spend money in the local economy and create business for sub-contractors and work experience for young people – so working with this industry can bring important benefits to the town."
Images are the copyright of Frome Town Council and are reproduced with approval of Mammoth Screen.