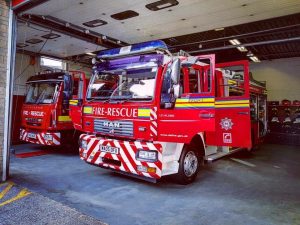 Frome Town Council is urging Devon & Somerset Fire & Rescue Service not to make cuts at the town's local fire station.
Representatives from Frome Fire Station attended a packed council meeting in July to highlight some of the proposed changes to the service, which include removing Frome's second fire engine during the day, and what they would mean for the community of Frome.
Councillors are concerned it will mean an increased risk of serious and/or fatal injury for town residents. Frome is already the second busiest retained station in the area, over a five-year average and during last year alone the second fire engine was used 78 times during the day. Alongside this, the town's population continues to grow which means there will certainly be a higher demand for fire and rescue services.
Mayor of Frome Mark Dorrington said, "We believe it is vital to think to the future and retain the second fire engine in Frome 24 hours a day. We hope the outcome of this consultation will not be for reducing Frome's service but instead planning for increased demand in the years ahead."
Devon & Somerset Fire & Rescue Service are seeking residents' views on the proposed changes at a drop-in session at Frome Library from 10am-2pm on Thursday 29 August. Before this consultation takes place local residents are holding an event on Wednesday 21 August at Frome Football Club from 7pm which will provide information about the cuts and their impact locally.
There is also an online questionnaire you can fill out before 22 September here.
Published 05/08/2019