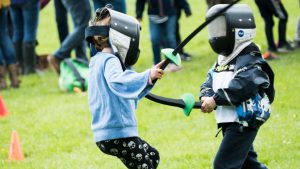 The Sports Festival was held in Victoria Park on a cold and drizzly day at the end of April! Despite the weather hundreds of people joined in the sports on offer. Highlights included BMX workshops and the very popular wheelchair basketball. The inflatable assault course was busy all day as were the tennis courts and smoothie bike. Organiser Sue Willis said 'We would like to thank all the local clubs and groups that ran tasters at the Sports Festival. We had a really good range of sports on offer and loads of people enjoyed the day despite the British weather! The Town Council captured some great ideas from kids about the future of the skate park and several groups signed up new members.
Councillor Gary Collinson said "It was just great to see so many people out enjoying the day and watching our open spaces full of people.  Getting active is such a big part of a Healthy Lifestyle-  it is great to be able to encourage kids who maybe wouldn't ordinarily enjoy active play."
It was a great day with a friendly buzz. If you enjoyed it or missed it, there will be another chance to take part in some of the sports the Children's Festival on Sunday 8th July – keep an eye on our facebook page for more details.'
The event was funded by Frome Town Council and supported by Sainsbury's and Bunnings.