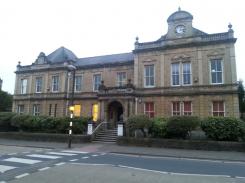 Frome will have a new community hub by this time next year. The Town Council agreed last night to acquire the Public Offices on Christchurch Street West. It is expected that the transfer from the County Council to the Town Council will take place over the summer.Mel Usher, Leader of the Town Council said, "This is an exciting opportunity for the town that we have grabbed with both hands. It chimes with the enthusiasm and determination we see in the community and will provide a vibrant 24/7 place to meet for the town as a whole. Now that the Town Council has agreed to acquire the building the exciting part starts. We shall be talking to as many local small businesses and voluntary and charitable groups as possible and we shall be asking some truly imaginative local professionals to help us all to design the interior and make this iconic building a really special place.
"I can't stress too much that even though the Town Council will relocate there this building is for the town to use. Indeed it will be a town hall in its original sense.  Once the deal is done we will look to transferring the building into a trust to make sure that it stays part of the town in perpetuity.
"If there local groups and businesses who want to discuss what the building might offer them, please get in touch Paul Wynne the Town Clerk. At this stage there's nothing ruled in and nothing ruled out.
"Today though, perhaps the most satisfying things is that the Town Council has stepped in and saved this fine building for community use."