Frome Heritage Museum is delighted to announce that is has secured a grant of £1000 that will contribute to the conservation of the thousands of glass negatives that are part of the museum's collection. The negatives catalogue the work of J W Singer Ltd., the art metal work factory that was once located along the river in the centre of town. The grant is funded by South West Museum Development using public funds from Arts Council England and contributing Local Authorities.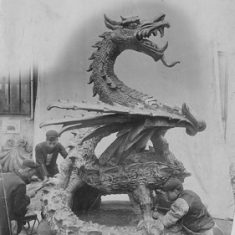 You may have seen some of the images from the negatives when they formed a part of the collaborative project 'Casting the World' that ran throughout 2019. Part of the project was the exhibition 'Casting The World: The Story of J.W. Singer & Sons, Frome' which was a Rook Lane Arts project funded by the National Lottery Heritage Fund. 'Casting the World' is also the title of the book by Sue Bucklow that complemented the exhibition. Money raised from the sales of the book has also been donated to the Museum for the conservation of the negatives.
The combined funding will enable the Singer negatives to be cleaned, scanned and stored safely. By scanning them online they will also become part of the digital catalogue that can be accessed from the museum's website, making the collection much more widely seen.
A group of museum volunteers have been trained to undertake the conservation by Sarah Allen, a photographic conservator living in Frome. The volunteer group includes Steve Francis who rescued the negatives when the Singer factory site was being relocated. The conservation work will start as soon as it is safe to do so and updates will be posted on the museum's website.
Published 22nd June 2020