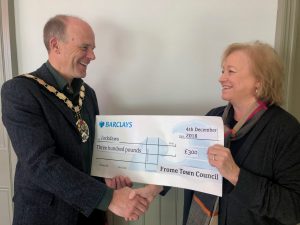 Six local organisations have received a total of £5,236 from Frome Town Council's Community Grant programme just in time for Christmas.
The projects ranged from providing kit for 10 young Frome Fire Cadets and upgrading equipment for Frome FM to support towards a cold weather shelter for rough sleepers during the winter and community workshops that reconnect Frome with its industrial heritage.
The Mayor Rich Ackroyd said: "Frome Town Council has a policy of supporting community projects – and we love to hear about the great projects that our community groups are up to.  Don't forget you can also apply the Mayors Grant for small grants of anything up to £300 too."
The funding has also supported Active and in Touch to support people who have become isolated from the local community, Frome Cricket Club to ensure that no player is excluded through the inability to provide their own kit and Jackdaws to introduce children of all ages to music to inspire them to take up instrument lessons and encourage those already playing to keep up their efforts.
Community groups and organisations with great projects are encouraged to apply in the third round of the Community Grants programme which is now open. This fund is for applications of £300 – £2k from groups and organisations who can demonstrate that their projects will have a positive impact on Frome residents.
The deadline for applications is Monday 14 January 2019 at 9am.
Find out more and get the detail on how to apply: www.frometowncouncil.gov.uk/grants/