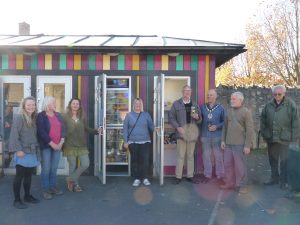 Frome community fridge enables around 90,000 items a year to be shared rather than thrown away, according to a report published this week. This results in the fridge saving around 140 tonnes of climate changing greenhouse gasses every year – the equivalent to driving 340,000 miles.
Set up in 2016 by Frome Town Council and Edventure Frome, the fridge was the first of its kind in the UK.  There are now over 60 community fridges around the country.
The report concludes 'Frome's community fridge is doing tangible good for people in the community and for the global environment. It raises questions too around the rationality of an economic system that allows so much to go to waste whilst so many go hungry.'
Frome Town Council's Resilience Manager Anna Francis said 'It's amazing what a big impact something as simple as a fridge and community larder can have. As well as the environmental savings, the report found that for many the fridge offers a lifeline and an important opportunity to connect with the community.'
Social impact
A team of dedicated volunteers pick up 'surplus' food from local shops and businesses such as Greggs.
Johannes Moeller, Director of Edventure Frome said 'Food waste is responsible for 10% of global greenhouse gas emissions. Cutting food waste is something we can all try to do. The social impact of the fridge is really interesting too – there are not many projects that are based on trust and mutual aid in this way.'
Fridge Coordinator Terri added: 'I started volunteering at the fridge because I'm a stay-at-home mum and I wanted a community element in my life. The fridge is a really worth cause because there is so much food that goes to waste.'
The fridge currently has a team of eight volunteers who collect surplus produce but still needs more people to get involved. If you are interested in volunteering please contact: fridge@edventurefrome.org or call 01373 488579.
The report and short film are available on our Community Fridge page.
Published 02/05/2019