'Catch the Bus Month' run by Bus Users UK, is taking place in September and Frome will be taking part!
Mayor of Frome and bus supporter, Cllr Philip Campagna, says; "We know buses are good for our health, good for the economy and good for the environment so Frome will be backing buses as part of 'Catch the Bus Month' throughout September."
FAVBUG, Frome and Villages Bus User Group, is also supporting the campaign and is organising two bus stalls in Frome to get as much information out there about the bus services and routes.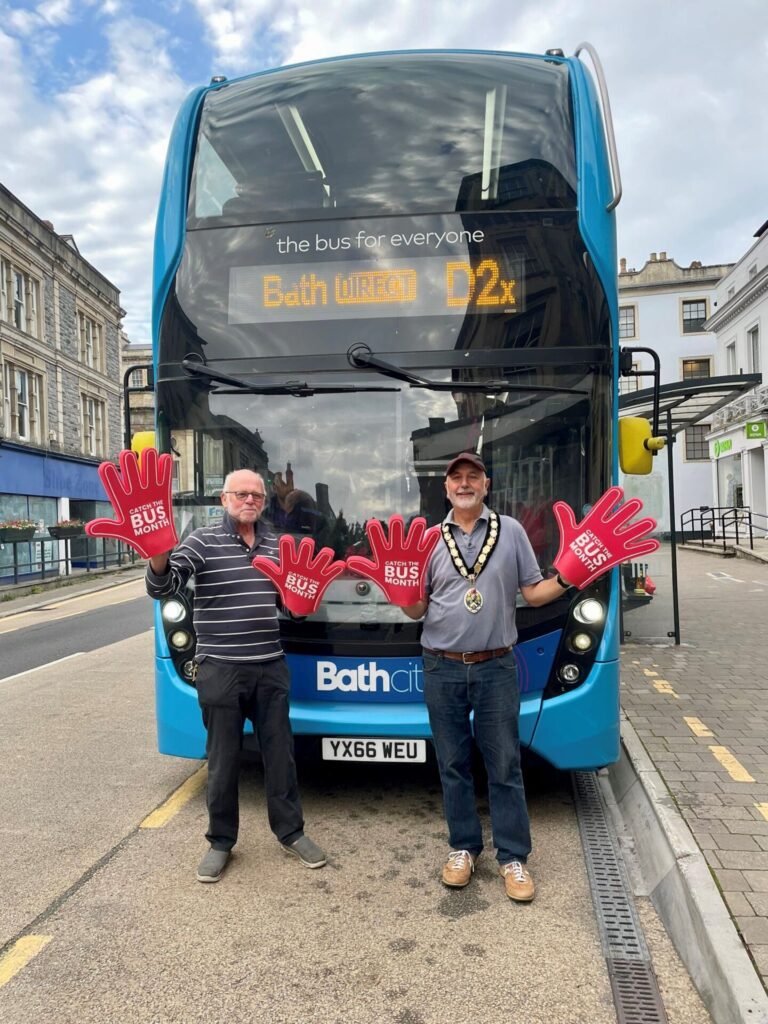 The first stall will be in Frome's Market Place on the morning of Saturday 2nd September.  New autumn timetables for the First D2/D2x Frome/Bath and Faresaver X34 Frome/Trowbridge services will be launched at the bus stall. Printed copies of both new timetables will be available, as will timetables of Frome's other bus services. Frome's Mayor will join the FAVBUG team on the bus stall, which will be located next to Costa in the Market Place.
FAVBUG is also organising a second bus stall at the Frome Cheese Show on Saturday 9th September. Frome's MP, Sarah Dyke, who successfully campaigned with FAVBUG to save the evening D2 bus services, will be visiting FAVBUG's bus stall while at the show.
Last year, Somerset held more 'Catch the Bus Month' events than any other county. It is expected to do the same in 2023. Peter Travis of FAVBUG commented; "Not so long ago, Somerset had the worst rated bus services in the country, but things are getting better as more people return to going by bus. The £2 fare, introduced this year, makes going by bus even more affordable. We've also seen major improvements on the Frome/Bath route with the introduction of the D2x. Getting more people to go by bus is the way to get better bus services."
Claire Walters, Chief Executive of Bus Users UK the charity behind Catch the Bus Month said; "Buses are a lifeline for millions and bring huge health, social and environmental benefits to us all. As the cost-of-living crisis continues to bite, we need affordable, sustainable transport more than ever so it's great to see Frome celebrating these vital services and encouraging more people to get on board."
For further information about bus services, visit our transport page.