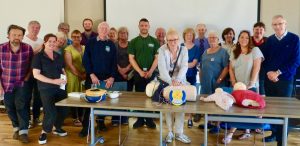 Councillors and staff at Frome Town Council have received life-saving defibrillator training from Friends of Frome Hospital.
The community defibrillator project run by Friends of Frome Hospital has seen no fewer than 23 publicity available defibrillators (PAD) strategically installed around the local area. The vital equipment is available 24/7 to assist in the event of anyone having a cardiac arrest.
Mayor of Frome, Mark Dorrington who attended the training said, "The community defibrillator scheme is of great importance in our community and this training was extremely beneficial for us all. We're very grateful for Friends of Frome Community Hospital for all their work and encourage more organisations to take up the training on offer – it could save a life!"
First responder Matt Inseal from locally based Emergency First Aid Training explained how bringing a defibrillator quickly to a patient in a heart trauma situation can substantially increase the chances of saving a life. Matt then showed the Council what they might expect in a typical cardiac arrest situation. He demonstrated how to address the initial trauma, apply immediate CPR resuscitation as well as how to call for, and use, a defibrillator until the emergency services arrive on the scene.
Derek Trick, Project Leader for the Friends of Frome Hospital Community Defibrillator Scheme said: "The Friends were pleased to accept an invitation from the Frome Town Council to come and make their staff aware, not only to recognise the importance of the project for the Town, but to be shown how to deal with  a situation that could happen to anyone at anytime. With their nearest PAD unit less than 50 meters away, on the front of the Memorial Theatre opposite to the Council Chambers, we hope they now have the confidence to handle an emergency if it were ever to arrive."
"The Friends of Frome Hospital consider these awareness sessions to the community are of the utmost importance in support of the Community Defibrillator Scheme. Over the past three years public awareness sessions have attracted over one thousand local people to learn about CPR and defibrillation, with the sessions also being taken into two local middle-school academies, at Selwood and Oakfield, where a similar number of students have also been taught these basic disciplines."
To find your nearest defibrillator go to www.frometowncouncil.gov.uk/find-nearest-defibrillator/
Published by 15/08/2019