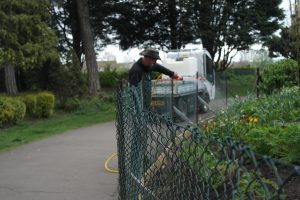 Frome Town Council will be discussing footpaths across the town's parks and green spaces on Wednesday 1 November, including the paths in Victoria Park.
"Good quality paths are really important – and we've done a lot over the last five years to improve and repair lots of the paths that we look after" said Councillor Richard Ackroyd. "This has included supporting projects across the town, like Frome's Missing Links"
"Path works tend to be expensive, though – which means that we have to plan for improvements. In recent years, we've put in brand new paths on the Mary Baily Playing Field; and improved the paths at the Old Showfield. And we're planning to invest in the paths in Victoria Park in the coming year. These paths are wearing in places and there are sections where the tree roots are impacting too. This will be part of the discussion at the Council Matters meeting and we welcome anyone to come along and join in the discussion"
It is timely that the Council has recently received a petition from 100 residents asking that the paths in Victoria Park are improved.
To find out more about Victoria Park and the town's other parks and green spaces click here
The Council Matters meeting will start at 7pm on Wednesday 1 November – and the agenda and reports will be available online from 25 October. Everyone is welcome to attend.