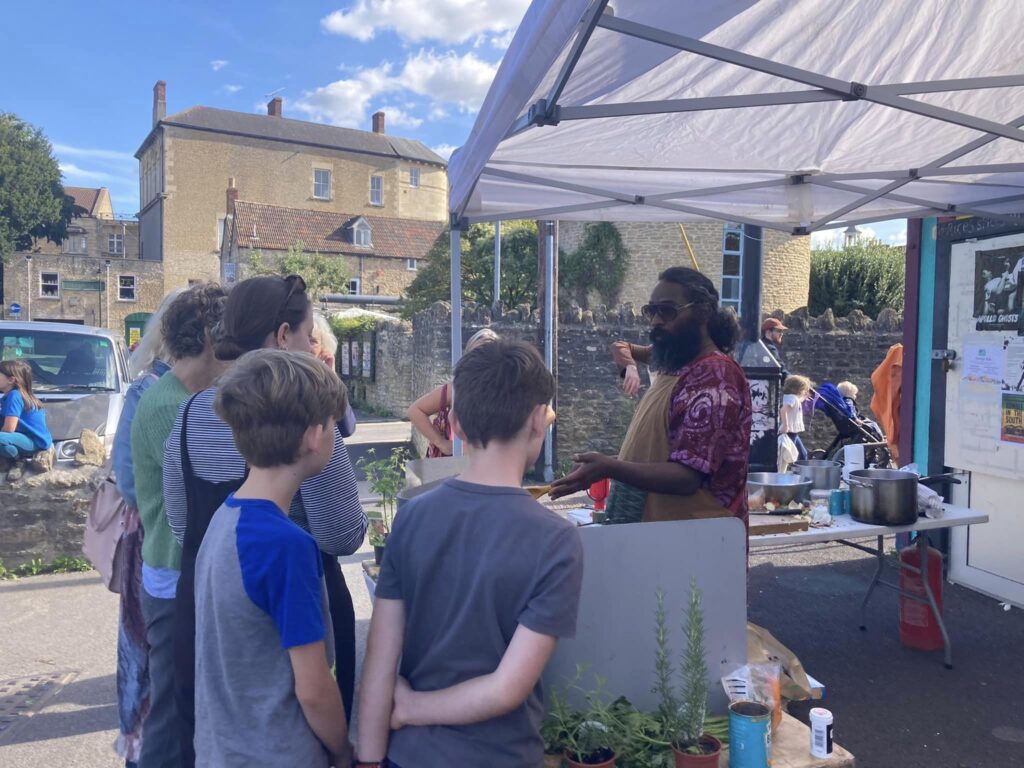 This year's Great Big Green Week takes place from 10th -18th June and is jam packed with exciting events featuring the action Frome is taking to tackle climate change. A few events have a particular focus on showcasing local food producers, reducing food waste and the benefit this brings.
On Saturday 10th both lunch and dinner service at Lo Rapitenc on Cheap Street will coincide with June's Somerset Farmers Market at The Boyle Cross. As a collaboration with the Frome Food Network, Lo Rapitenc will highlight local produce direct from market producers, but with a Catalan twist. Booking is advised via Lo Rapitenc's website.
Or maybe on Sunday 10th raise a glass to spring by joining professional forager George Linklater at an Elderflower Champagne workshop at Rodden Meadow from 3pm – 6pm. It'll begin with a walk looking closely at the elder tree and other common hedgerow plants and shrubs and how to identify them. George will discuss the benefits of the slow food movement, wild ingredients, how to use ferments and how all these can both benefit everyone and the natural environment. He will then guide through the process of making and safely bottling elderflower champagne. To finish the afternoon, there'll be the chance to sample this wonderful beverage along with a range of other fantastic, foraged canapés to try.
George will also be leading the Foraging and Nature Connection Walks on Thursday 15th at Rodden Meadow. Choose from the 10am-12pm or 3pm -5pm slot and take a walk on the wild side and see the world through a new lens as George will give attendees a window into his world of wild food and flavours. You will explore different habitats that can be found throughout the area and what edible and medicinal species can be found in each one.
Book your space for both of George's events on the GBGW website.
Join Cherry Truluck and Annalee Levin at a communal multisensory event, conceived as an edible conversation between the two acclaimed food artists. 'This Food is Rubbish' takes place at the Rye Bakery on Friday 16th June from 7-11pm and explores food that is overlooked, misunderstood and wasted in the 30 miles of Somerset countryside that lies between the artists. They will ask "how might we think, eat and farm differently if we took a zero-waste approach to food and drink?" Join them for an unforgettable adventure through multiple courses of food and drink including a myriad of foraged, reclaimed and rediscovered ingredients. Booking is essential here.
Or get your red tomatoes and green peppers at the ready with the return of Ready Steady Cook on Saturday 17th June from 12-2pm at the Market Yard. Join the Frome Community Fridge for some zero-waste foodie fun – the team will be challenging some of Frome's top cooks to make a tasty meal from ingredients collected by the Community Fridge.
It's not all just taking place in Frome either. For Veggie Week, from 12th – 18th June, pubs in Rode, Beckington and Norton St Philip will be serving up extra vegetarian and vegan delights during Great Big Green Week. An excellent opportunity to try a few new, planet-friendly dishes in some of the best village pubs around. For full details including opening times contact the participating venues: Cross Keys, Rode; The Mill at Rode; The Foresters, Beckington; The Woolpack Inn, Beckington; The Full Moon at Rudge.
For the full run down of all the exciting events across the entire week, head over to the GBGW page to get involved!