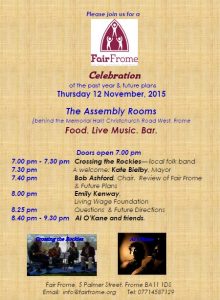 Fair Frome, which has been running the Frome Food Bank for a year now, is holding an event to celebrate its achievements and share future plans. The event will take place at the Assembly Rooms (behind the Memorial Theatre) starting at 7.00pm on Thursday 12 November. There will be a host of entertainment by local musicians Al O'Kane and the Crossing the Rockies, as well as refreshments to enjoy.
Mayor Kate Bielby will be speaking at the event and Emily Kenway, a representative from the national Living Wage Campaign will also be talking about the importance of tackling poverty and what the Living Wage really means.
As a new charity it has steadily grown and is now a recognised body in the town.  As well as hosting successful Community Dining events – which have brought together hundreds of people to prepare and share a meal, the organisation has introduced a kitchen utensil and washing pack scheme, recruited over 30 volunteers and campaigned against inequality, working with diverse variety of stakeholders from across the town.
The charity is now looking at future plans to provide services for those in need in Frome, and at campaigning strategies to raise awareness of and reduce poverty in Frome and the surrounding villages.
Bob Ashford the Chair of Trustees comments "In just over a year Fair Frome has gone from strength to strength – tackling poverty and the causes of poverty. The response from people in the town has been amazing, from donations to the food bank by individuals and organisations, sponsorship from the Town Council and others, and from our very active group of Trustees and volunteers. Fair Frome is now a permanent and active part of the Frome Community. The event is both a celebration of that success and an opportunity to hear and contribute to future plans – whilst enjoying an evening of music and food provided by volunteers and friends. Please do come along and join us."
The event is open to all members of the public and press. Anyone wanting to find out more information about the event or Fair Frome can contact Wendy Miller-Williams at info@fairfrome.org or call Wendy direct on 07714587129.