The weather is starting to get colder, which means that we draw our attention towards keeping our homes warm and comfortable ready for the months ahead. Here in Frome, there is a dedicated Healthy Homes team who are on hand to offer guidance and advice to those looking to improve their home conditions.
Ensuring that a home is warm and dry is something most of us are concerned about. The Healthy Homes team, in collaboration with the Centre for Sustainable Energy (CSE), are providing free Energy Advice sessions at Frome Library. If you'd like some more information on how to do this, or are wondering how to get started, pop along to one of the drop-in sessions below. More dates will be available after the New Year: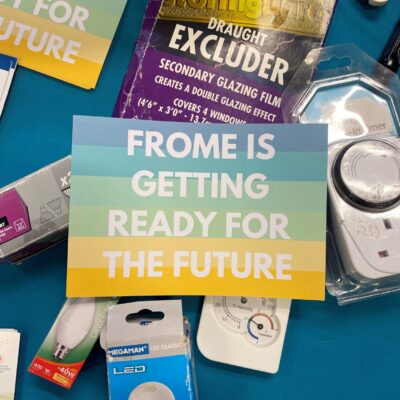 Frome Library, 10am-4pm
Wednesday 18th October
Wednesday 15th November
Wednesday 22nd November
Wednesday 20th December
In addition to the library sessions, the Healthy Homes team are available for free and impartial energy advice at Fair Frome on Marston Trading Estate on the last Wednesday of each month, 11pm-1pm. No need to book, just drop in. The Healthy Homes team can also arrange free home visits and can offer more practical help such as installation of simple draught proofing, or help with setting up heating controls.
Jo Morris, Frome Town Council's Resilience Officer, said: "Now the weather is getting colder, we've increased the number of our Healthy Homes energy advice sessions at the library. Our trained energy advisors are here to help you lower your bills, make your home more energy efficient, and healthier to live in."
As well as energy advice, there are home improvement grants available through Somerset Council, aimed at supporting home energy efficiency for low-income households. The Great British Insulation Scheme is a non-means tested grant, available to residential properties with an EPC rating of D or below, and in council tax band A-D. Other grants available include an 'Increase to heat pump' grant, means tested grants for energy efficiency and boiler upgrades, and low interest loans.
The Healthy Homes initiative is funded by The National Lottery's Climate Action Fund as part of the Green and Healthy Frome programme, so why not make the most of the free help available. Partners at the Centre for Sustainable Energy may even be able to match you with funding to help improve the energy efficiency of your home.
More information on Energy Advice sessions, keeping your home warm and comfortable as well as information of available grants can be found here.
Pop along to Frome Library and speak to an energy advisor, or you can email: energy.advice@frometowncouncil.gov.uk