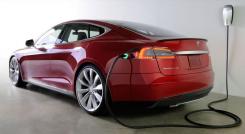 Frome Town Council is excited to announce that there is to be an Electric Vehicle Event at the Cheese & Grain at 6.30pm on Friday 4 July 2014.
The event will be free and open to anyone who has an interest in the current rapid evolution of electric vehicles.
We will be joined by Malcolm Burgess of Tesla Motors (US) who will be bringing a new Tesla Model S (only launched in the UK this month). Malcolm will give a short presentation and take questions. Other electric vehicles on display will include the Tesla Roadster, Renault ZOE, Vauxhall Ampera, the Nissan Leaf and some electric bikes.
We will also be joined by Kevin Sharpe a local Entrepreneur and Trustee of Zero Carbon World (who has driven over 60,000 miles in electric cars!) who will share the platform with Malcolm, and Frome's Mayor Peter Macfadyen, who will outline the Town Council's plans for charging points and an electric car share.
You are invited to bring along your electric bike or car if you have one, or simply your curiosity if you don't.
For more information contact: Anna Francis: francisa@frometowncouncil.gov.uk 01373 465757