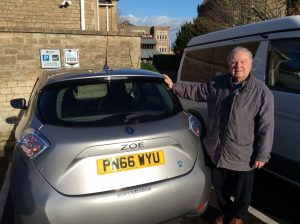 Clive, who lives in Frome had never used an electric car and doesn't have access to the internet, but he was able to sign up over the phone with some help from the staff at the Town Hall. We caught up with him a short while after his first trip.
What is it like to drive the car?
Very, very good. There is no noise, you've got to get used to that. Just two pedals, accelerator and brake. You don't roll back on a hill start, because it's automatic. It was an experience that I thoroughly enjoyed. And I'm going to do it more and more and stick with the Renault Zoe, I know where everything on the dashboard is now. You've got to watch that speedo – the weight of your foot on the accelerator is quite sensitive – you have to keep your eye on it, and you have to be ok with an automatic
What will you be using the car for?
The car I drive now is my wife's, but she no longer drives it. It doesn't make sense to keep paying for it, so I'm going to become carless. I need to get to Coleford once a month. The electric car is an option, my next door neighbour doesn't mind giving me a lift, another gentleman has also offered, which is very kind, but I'd rather rely on myself.­­
How many times have you used the car now?
Only once, I took it to see a mate near Warminster, he was very impressed. But there's going to be another one coming up, I'd like to take it to see my daughter in Midsomer Norton.
It's nice that you want to use it more now that you've tried it. How did you find out about the E Car Club?
They'd been advertising it in the Frome Times for a while, so I thought to myself, I'll go and have a look at them. I was a little bit dubious, but I had a go. You at the Town Hall of course have been instrumental.
What's the E Car Club customer service like?
I ring the boys often, they're very helpful. Their telephone number is emblazoned in my mind – 0203 603 2259! I ask a lot of questions about technicalities. You can call them and tell them where you're going, and they'll tell you if you've got enough charge. I was worried about being left high and dry, but really there's nothing to worry about, because you can always see the battery level on the dashboard.
Would you recommend it?
When you think it's £5.50 an hour – a taxi would be astronomical. I would recommend it to people who think electric cars are nonsense, and say that I've driven it, and it's quite easy to drive.
What would you say to someone who was thinking about renting it? 
Give it a go, this electric thing is going to take off, we've been slaves to the oil industries for so long, this is a way of getting past it. The facility is there. There's one at the Town Hall, and one at the Cheese and Grain. The whole experience is well worth going through.
If you would like to sign up to E Car Club go to my.ecarclub.co.uk/MemberRegistration  and enter promo code: FROME18 to get £1 membership (usually £50) and two free driving hours.
If you'll be using one of the E Cars in Frome for the first time, or you've used it in the past, please let us know – we'd love to hear your story: griffinr@frometowncouncil.gov.uk