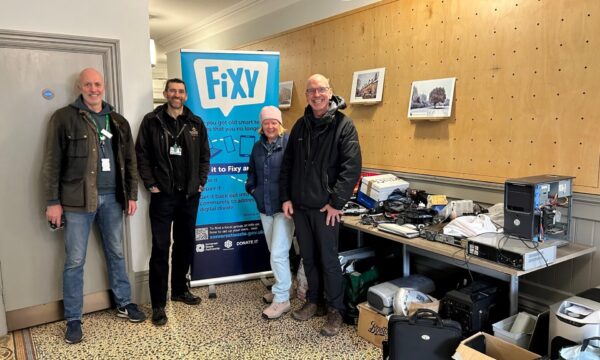 There was no shortage of donations at the second Tech Amnesty held at Frome Town Hall; the weather may have been chilly, but the steady stream of people resulted in an even bigger haul than the first amnesty!
145 smart phones, 41 tablets, 76 laptops were just some of over 300 items that were donated in order to be refurbished and given to someone who needs it in our community or to be sustainably recycled.
Simon Barfoot of Donate IT said: "We're delighted that so many braved the cold to come out and give their old tech, resulting in over 300 devices, weighing about 615kg, which will benefit people in our community instead of possibly being lost to landfill. We'll now get to work securely clearing all the data from the donations and repurposing where we can."
Will Palmer from the Health Connections team at Frome Medical Practice who was also at the event said: "It was a great day all round, not only with the incredible items donated but I was especially pleased to receive several refurbished items from the Donate IT team that had been collected at the December amnesty. They will now make their way out to the community to those who can make good use of them. If you or anyone you know, needs a device please contact the Health Connections team at Frome Medical Practice. "
If you missed the amnesty, there are now two permanent drop off points in Frome.
Cllr Anne Hills said: "Frome Town Council are proud to be supporting this project and pleased that it has got off to a great start this new year, thanks to local residents. Spring is a perfect time to declutter and get rid of old tech, if you weren't able to make the event there is now a permanent drop off at Frome Town Hall where you can bring your items to reception ready for the Donate IT team to pick up."
Frome Town Hall is open Monday – Thursday 9am -5pm and Friday 9am – 4:30pm. Alternatively, you can drop items at the Welsh Mill Hub, every day from 10am – 4pm.
Should you know someone who could benefit from a digital device, the Health Connections team can be reached by email or calling 01373 468368. Or you can visit their website here.