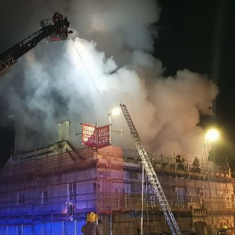 Frome Town Council and Fair Frome are working together to co-ordinate how best to support the individuals effected by the fire at Garston Lodge.
For those that have been affected by the fire Fair Frome are able to offer food, toiletries and cash to support any immediate needs those involved might have. Their office based behind the Town Hall will be open until 4.30pm today, tomorrow from 10am – 4.30pm and Wednesday 10am – 4.30pm.
Thanks for all the generous offers of support for those affected by the Garston Fire that we have received over the weekend. We are doing our best to establish the needs of the residents involved and we will then be in touch if your offer is something that is required by the residents.
Any financial financial donations can be made by Bacs Transer to
Fair Frome Sort-code 60-08-31 Acc# 63682826
Or through their local giving page: https://localgiving.org/donation/fairfrome
Reference FIRE and we will ensure that any donations will reach the residents involved.
Please note: If you would like to donate furniture, beds or mattresses please can you ensure that they have Fire Retardant labels.  We are unable to give anything that doesn't have one.https://youtu.be/dPaNH49nYM8