We now have two beautiful maps of Frome hanging in the Town Hall and the Information Point at Black Swan Arts. They are the result of a special one-off printing by Dennis Maps and have kindly been donated by Steve Burry, Managing Director.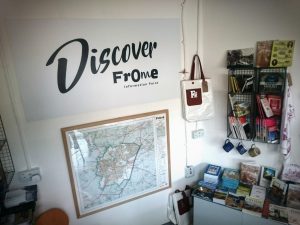 Producing more than two million maps and charts every year; Dennis Maps is the largest printer of paper map products in the United Kingdom, and located right here in Frome.
Councillor Jean Boulton and Town Clerk Paul Wynnewere invited to visit. They were shown around by machine operators Grant Aven and Keith Vranch and discovered the intricate art of map printing; every colour is are printed separately one after the other and extra care is taken to ensure they are correctly matched.
Grant is the third generation of his family to work for Butler and Tanner in Frome. He was made redundant when Butler Tanner and Dennis closed down but was employed again when it opened as Dennis Maps "I was delighted to apply and effectively get my old job back."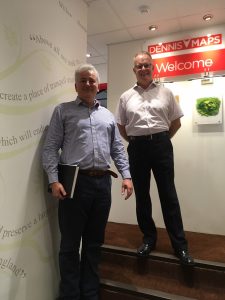 Paul Wynne (left) was delighted to accept the donation and said 'I have ancestors who were printers and it is fascinating to see how the technology is still evolving. I was particularly impressed by the fact that current maps have a code that allows a digital version to be downloaded onto a device. So much easier than grappling with maps on windy wet days.' Steve also showed Paul and Jean a newly formulated map material which is both resistant to water and to tearing. 'We tried to tear it but were unsuccessful' said Jean.
A huge thank you to Dennis Maps for fitting a small scale project into their busy work schedule. The maps are not only proving useful to the public, but don't they look stunning?