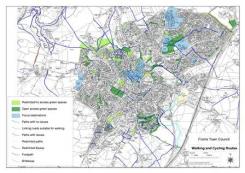 Over the last year Frome Town Council have been involved in a fantastic community project looking into the walking and cycle routes throughout Frome. The working group formed to manage this work, have been responsible for not only mapping the routes in a central format for the residents to use, but more importantly they have been indentifying any gaps in the established routes, assessing and alleviating any problems and finally establishing new routes for the people of Frome. All work completed on new routes will fall into line with The River Corridor Strategy adopted by Frome Town Council, which aims to make best use of the river and surrounding area for the people of Frome.
The working group will ensure that when new developments are built, cycling and walking routes are a priority and where existing routes are compromised new ones will be considered as part of the planning process. Somerset County Council, Sustrans and Cycle City Guides have produced a Future Cycle Network Mapping Report showing potential cycling routes and improvements to existing cycling routes across Frome.
Now the initial works have been completed, the team are establishing how to effectively mark and promote these routes across the town. Several options have been discussed including coloured road markings, utilising existing signage, incorporating the information into the Frome App and producing paper copies of the maps. The working group will now be deployed by FTC as the consultative group for issues surrounding walking and cycling access routes in Frome.