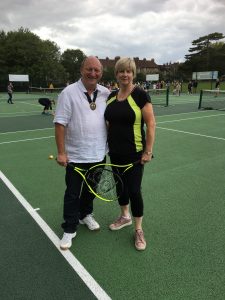 Free tennis in Frome has got off to a flying start with over 80 eager tennis players arriving for the launch last week.
Adults and children alike joined in for the coach led sessions which involved fun drills and games. There was also time for open play, making it perfect for both beginners looking for their first taste of tennis and those with a bit more experience wanting to get back into the game.
Frome Town Council teamed up with national charity Tennis For Free and Frome Selwood Tennis Club to bring free tennis to the town and have now announced additional free play sessions during the week.
Mark Dorrington Deputy Mayor of Frome Town Council was on the courts for the launch and said, "Helping to ensure that local residents have access to opportunities like this means more people can get outdoors and spend time with their friends and families doing something active. We hope that by offering both coach-led sessions and free play anyone will feel like they can pick up a racquet and get involved."
Tennis For Free provides free access to tennis courts and coach led tennis sessions, targeted at everyone in the local community, and all equipment is provided.
If you'd like to try your hand at tennis, whatever your age or ability, the coach led sessions are running Saturdays 2.30 – 4pm. The free play sessions are available Monday – Friday 3.30 – 5.00pm.
Find out more and sign up for the free sessions here.