The Coronavirus (COVID-19) is a new illness that can affect your lungs and airways.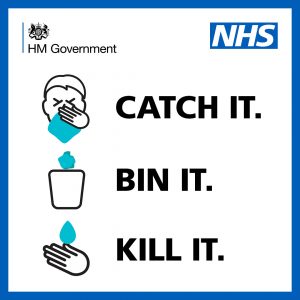 Here's the latest information from the NHS website.
Additional further updates can be found on the Government's website.
The new key government measures for all are:
Stay alert
We can all help control the virus if we all stay alert. This means you must:
stay at home as much as possible
work from home if you can
limit contact with other people
keep your distance if you go out (2 metres apart where possible)
wash your hands regularly
Do not leave home if you or anyone in your household has symptoms.
These measures must be followed by everyone.
If you have symptoms, you must not leave your home:
if you live alone and you have symptoms of coronavirus illness (COVID-19), however mild, stay at home for 7 days from when your symptoms started
if you live with others and you or one of them have symptoms of coronavirus, then all household members must stay at home and not leave the house for 14 days. The 14-day period starts from the day when the first person in the house became ill
People should only use the NHS "where we really need to" – and can reduce the burden on workers by getting advice on the NHS website where possible
If you do have to go out, to help stop the spread of the virus you should:
Keep a distance of 2 metres or 6.5ft
Wear a face covering or mask in shops, mandatory from 24 July 2020
cover your mouth and nose with a tissue or your sleeve (not your hands) when you cough or sneeze
put used tissues in the bin immediately
wash your hands with soap and water often – use hand sanitiser gel if soap and water are not available
do not touch your eyes, nose or mouth if your hands are not clean
If you are concerned about coronavirus you can read the latest on the Frome Medical Practice website.
Somerset County Council have also put together some hints and tips for looking after your mental health during this time.
We will be updating this page with further information when it is available.
Updated 16/07/2020