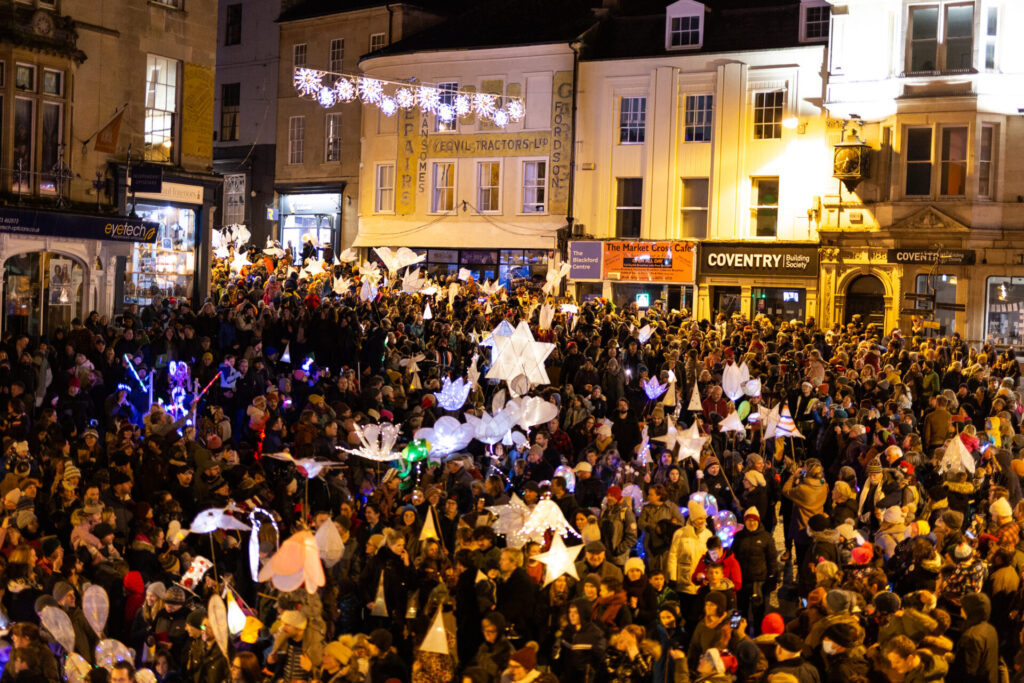 As is now tradition, the Frome community came together to light the night and mark the start of the festive season on the last Friday in November.
Hundreds of magical lanterns lined the street thanks to Frome Light the Night who worked with the local community, families, schools, and artists to make stunning creations. From owls to flowers to bees and butterflies all had an enchanted winter garden theme and were eye catching as they descended Bath Street towards the crowd gathered by the Christmas tree at the Boyle Cross.
Those watching were treated to special performances from Frome Town Band who got the show started with a toot, a 50-person strong Rock Choir and the ever foot-stomping Frome Street Bandits. It was then time for Jamma de Samba to lead the lanterns and get people dancing ready for the light switch on. It was a real town event with several local cafes staying open to keep residents warm and fed while they waited for the countdown.
Mayor of Frome, Andy Wrintmore chose to surprise 'Lockdown Mayor' Anita Collier by inviting her up to the traditional spot on the balcony of the George Hotel for the countdown. He said: "What an honour the whole evening was. To witness community spirit in action in this way is just astonishing and I couldn't think of anyone better to share my spotlight than the person responsible for encouraging and supporting me to become Mayor for this fantastic town, and who missed out on the light switch on last year – thank you Anita."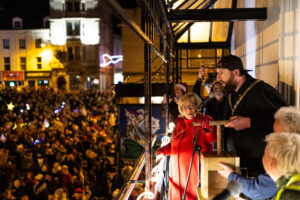 The event raised nearly £1,000 for local causes Fair Frome and their wonderful work supporting people in need, and the Big Christmas Get Together which for over the last 10 years has provided a meal on Christmas day and cheer to residents across the town. Donations are still being made online, if you would like to help make someone's Christmas you can also donate via phone, simply text FROMECHRISTMAS followed by your donation amount to 70460.