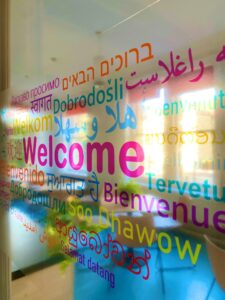 Frome Town Council and partners are delighted to announce that it is launching its first Community Hub timetable. With an increase in the need for community support groups, the Town Hall has increasingly become home to several drop-in services. Local practitioners including Frome Welcome Hub for Displaced People, Citizens Advice, the Somerset Council Access Point and Prosper Frome will from now on work together to create a central point for people to access help and information.
Cllr Anne Hills says: "This is a breakthrough for Frome as it means that residents will be able to access support without the need for multiple referrals. Coming together in this way means that services can be coordinated to best support individuals and families whilst reducing costs for the individual initiatives."
The Hub provides a more wrap-around offer – it will create an access point that is welcoming and universal. The hope is that it will meet the needs of residents and, by increasing the number of residents having their needs met within the community, that they will not require more expensive targeted services.
On Mondays, Citizens Advice offer a drop-in service to support those who can't access their services in any other way – Angela Kerr, CEO for Citizens Advice Somerset said: "The quickest way to access our support is online or via a phone call, but the Frome Community Access Point will be open every Monday to offer a service for anyone that can't use our free Adviceline or our email advice service. Call in to Frome Town Hall to find out how best we can help you. It may include a telephone call back, face to face appointment or follow up email. It won't offer immediate access to advice, but, based on your needs, it will agree with you the best way for you to access our help."
Somerset Council Access Point will also be at the Town Hall on Mondays. Customers who need in-person help or advice from Somerset Council will be able to access support. Their staff are trained to provide digital support to help customers self-serve when needed. They can also set up virtual or face-to-face meetings on the spot so people can speak directly to a member of the Customer Service team.
The Hub aims to support residents to access all the services that they need. It will also address gaps in service to both statutory and signposting services and drop-in sessions to external Voluntary, Community, Faith and Social Enterprise provision right here in Frome.
On Tuesdays, the Welcome Hub is open to all displaced people. Their dedicated staff can help support the refugee and asylum-seeking community in Frome. If English isn't your main language, the Welcome Hub can also offer you ESOL classes – English classes for Speakers of Other Languages. It is open Tuesday between 10am-3pm at Frome Town Hall. All displaced people from all countries are welcome.
On Wednesdays, the Health Visitors are at the Elliott Building behind the Town Hall from 1pm-2.30pm, where families are invited to bring children under 5 to be weighed and stay for informal play sessions. There will also be welfare checks conducted by Mendip Health Connectors at the Welcome Hub on Thursdays from 12pm-2pm.
Thursdays also welcome the new organisation Prosper Frome, offering financial advice on various money matters. Both for businesses and individuals, it offers advice, mentoring, support and signposting to other useful sources. There are workshops and discussions around money matters, as well as supporting individuals in developing more confidence in budgeting, accessing services and grants.
Cllr Anne Hills says: "The Community Hub really is a fantastic initiative, providing comprehensive services all in one place and making face-to-face support more accessible to those who need it. Please make the most of these drop-in groups and sessions, as the Hub is here to help and provide advice and guidance to all residents, in a confidential manner should you require it".
You can find more information on the services available as part of the Frome Community Hub here.