Over 50 people attended Frome Town Council's first Climate Panel on Tuesday 12th November. After an introduction from local energy experts Anna Francis, Lizzie Boyle, Philip Morris and Simon Proctor, groups worked together to outline a range of actions needed to meet the town's zero carbon targets. Ideas ranged from doing an energy audit of local businesses and schools, to setting up smart grids to having a team of people to be climate ambassadors.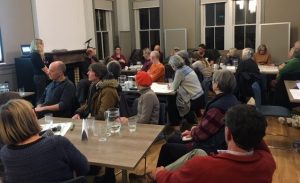 Council leader Richard Ackroyd who attended the event said 'It was inspiring to hear so many fantastic ideas from the local community. We're looking forward to working together more closely to enable the massive shift required to reduce energy needs and produce energy cleanly. The great news is tackling these issues has huge benefits for health and the economy too, reducing fuel poverty and ensuring our homes and buildings are easier to heat.'
The final climate panel is on Tuesday 26th November, 7pm at the Town Hall and will look at resources. Anna Francis said 'The resources we use have a huge impact which is often omitted from carbon targets. From the food we eat to the stuff we buy, the services we use and the way we use land, it's a huge and exciting topic to explore.' The ideas from the panels will feed into the climate emergency plan the council is developing, due to be published at the end of January.
The panel series finishes with a talk by Transition Town founder Rob Hopkins on 5th December at 7pm at the Cheese and Grain, co-hosted by Sustainable Frome. Tickets are £5 waged and £1 unwaged and can be bought on-line at https://www.frometowncouncil.gov.uk/climate-emergency/