Former-President of the Maldives and global climate change champion Mohammed Nasheed is coming to Frome on Thursday 21st July to speak at Frome Town Council's 'Clean and Healthy Future for Frome' event at Frome College starting 7pm.
Councillor Peter Macfadyen explained "For all kinds of reasons, it is becoming clearer that we need to move to energy sources beyond oil and gas.  Frome Town Council is hosting a free event on Thursday 21st July at Frome College to explore opportunities for the town to become one of the first fossil fuel free communities in the UK."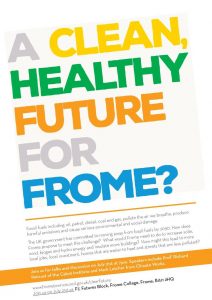 Frome Town Council's resilience officer Anna Francis added "In some areas of Frome air pollution levels are very high and this has a direct effect on people's health. At the same time 600 people die prematurely every year in Somerset because they can't afford to heat their homes. Insulating buildings and moving away from fossil fuels such as oil, petrol, diesel coal and gas will help not only to address these issues but will create employment, training and boost the local economy. If you're interested in finding out more about how we can do this do join us on the 21st ."
Councillor Peter Macfadyen added "The UK government has already committed to moving away from fossil fuels by 2050. We want to look in further detail at how we can achieve this in Frome."
Other top contributors at the event include Professor Richard Pancost Director of the Cabot Institute in Bristol which leads on climate change research, Mark Letcher from Climate Works and Anna Francis from Frome Town Council.
The event is being held in room F7 in the Future Block at Frome College, BA11 2HQ and starts at 7pm. For more information visit: www.frometowncouncil.gov.uk/cleanfuture
The full Fossil Free Frome discussion document which poses the following questions is now available here: Fossil Free Frome – discussion document:
1) Should Frome Town Council be taking a lead on the issue of climate change?
2) Should the council be setting a target in response to COP21 and the Paris Agreement?
3) Is a commitment to being 'fossil free' the right way to frame such a target?
4) Is Frome becoming fossil free by 2046 too ambitious or not ambitious enough in the light of the changes to the climate system experienced today and anticipated in the future?