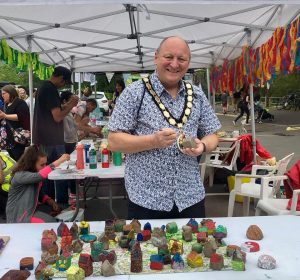 A somewhat damp Sunday was brightened considerably by Frome Children's Festival, the now familiar one day event held at the Cheese and Grain which winds its way along the river to Welshmill Park. Thousands of people came to enjoy the fun on offer, taking the drizzle in their stride.
Mayor of Frome Mark Dorrington said, "It was great to support the Children's Festival once again, it's such an inclusive and accessible event for Frome's families. Frome Town Council were on hand helping children to craft their very own clay houses, as well as offering information on how residents can cut energy bills and help the climate with free and discounted insulation offers and Frome's Solar Streets. If you missed us, don't worry, you can come and give it ago at MeadowFest on 14 July."
Festival organiser Sue Willis said "We're very proud of the success we had this year. The event was clear favourite in the People's Vote which gave us the incentive to make it as big as possible. We took our cues from children themselves and included their ideas in the activities on offer – zip wires across the river, sports tasters and the sensory tent were favourites, with some wonderful artwork produced on the mural wall and graffiti boards – and loads of books given away."
She continued, "We'd like to thank everyone involved in making this event happen, especially those who helped just for the love of it.  It was heartening to see so many kids enjoying the day with their parents, having a well deserved break near the end of the long summer term. We love organising this event – let us know what you'd like included next year and we'll keep it coming!"
The Children's Festival was funded by Frome Town Council via the People's Budget and local sponsors Storagebase, Lettings R Us and Eyre and Elliston.
The Children's Festival is organised by Purple Elephant Productions, a non-profit making company based in Frome. All Purple Elephant projects (including the Toy Library and Family Holiday Fun) are funded by a mix of grants, donations and sponsorship.
If you'd like to see their projects continue, please consider donating via the website www.fromechildrensfestival.org or sponsoring their work.