Broadway Community Gardens is now owned by the town following a buy out from Mendip District Council by Frome Town Council and the community group set up originally to buy out Whatcombe fields, Save our Spaces.  The land which has cost £25,000 has now been saved for the people of the Frome and Save Our Spaces will eventually take on stewardship following work later in the year by Frome Town Council to make it accessible.
It represents lots of hard work and campaigning by residents and excellent partnership working by those interested in keeping the space as a growing space. Local resident and campaigner, Mendip Cllr John Clarke: "I would like to thank the town council, Save Open Spaces Frome for their support but especially and most of all, those who have fought so hard over the last four years to achieve our goal of saving this open space. Now we have the opportunity with the people of Frome, to create a special place where the community can come together, benefit from nature, helping to create a strong community where people's health, physical and mental wellbeing can be enhanced, a friendly, welcoming safe space for all to enjoy."
Ally, a local resident said: "As a group we have worked hard on the land to demonstrate the value of the community coming together and the need to connect with nature. The pandemic has really emphasised the need for such spaces for individuals to enjoy their physical and mental wellbeing as well as learning about food growing and building up community resilience. Local illustrator Louise Boulter has created a beautiful artistic interpretation of this unique green space that's full of life and we're absolutely thrilled to have got to exactly where we had hoped. That the land is bought by FTC and handed to the community and protected for the future generations of Frome. It's a wonderful moment."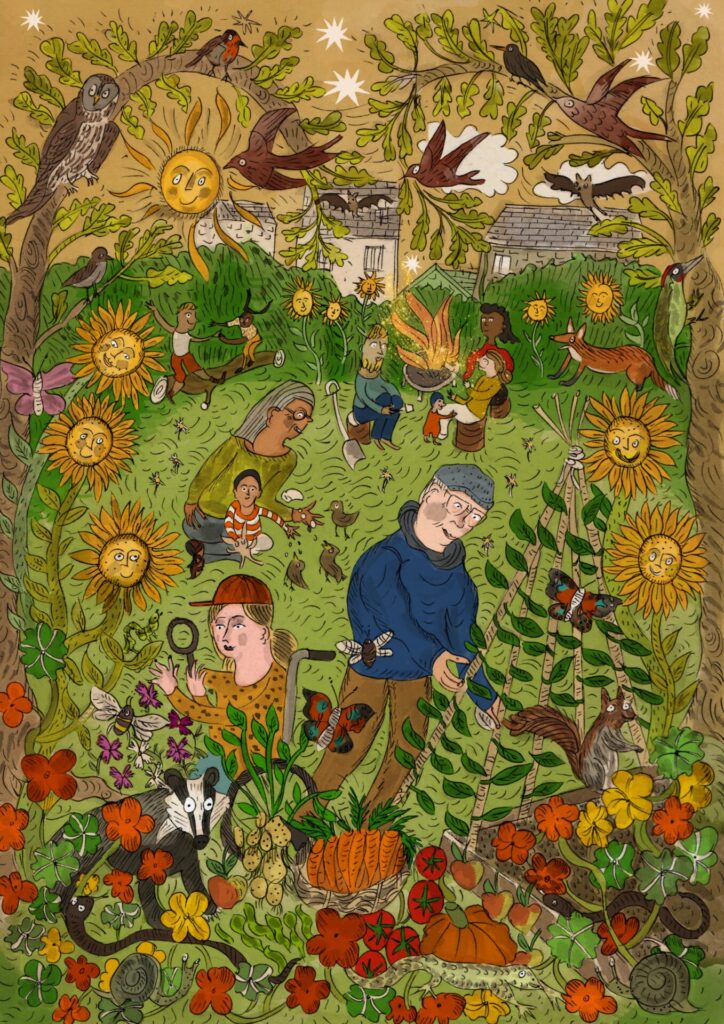 Director of Save Open Spaces and Frome Town Councillor Andy Jones: "SOS Frome is proud to support this key initiative in protecting the green spaces of Frome, working with the Association and interested groups across Frome to create a Community Garden, secured for future generations to enjoy."
Councillor Fiona Barrows was keen to point out that this space is for benefit of the whole town. "Run differently and complimentary to our allotments, it will be a different sort of growing space. The mental and physical health benefits of growing your own collectively are so important – everyone who wants to should be able to get their hands dirty and reap benefits. Ultimately our thanks must go to the two-campaign groups as it is their hard work that achieved this – a community growing space saved for the whole town to benefit from."
There will be plenty to get involved in over the coming weeks/ years so please keep an eye on the Broadway Community Gardens website for more information and to learn how to be involved.
*Illustration by Louise Boulter, www.louiseboulter.co.uk @louiseboulter