Frome's Neighbourhood Network group has been going from strength to strength this year.  Following the idea of checking in on your neighbours during the early stages of the pandemic; the group was formed to offer advice, information and support to members who have their own street network in their own part of town.  Lots has been learnt and built on around Frome since then which meant during the second lockdown, residents were prepared to look after their network, whether that was shopping for those isolating, building their own share boxes or hosting an outside coffee morning so neighbours could meet up and check in on each other.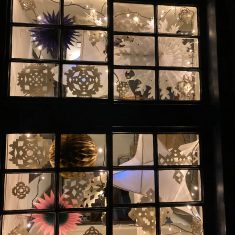 Entering the colder and darker winter months, the group has come up with some activities you can do with your neighbours to bring a bit of cheer this Christmas, here are some ideas:
Make a little post box or a display for Christmas Cards for your street
Hide an 'Elf on the Shelf' in the window of a different house each day of advent to surprise the children (and adults!) in your street
Create a real-life advent calendar by pinning up pictures (or anything!) in the front windows
Join in the Doorstep Carols on Wednesday 16th December
Have a mulled wine and mince pies event on your doorsteps or in your front gardens
Moving into the New Year, the group have even more ideas; what about grabbing your gardening tools and give the street a little bit of a spring clean?
Cllr Rob Collet, who is part of the group adds: "The Neighbourhood Network has come up with some great ideas to help keep the winter blues at bay. Why not encourage some of your neighbours to get involved and share the ideas with others, you can download the activity sheet below".
Not only that but the group will be holding an informal online session on January 12th, so you can find out different ways that you can support your neighbours, there will be lots of useful signposting advice and volunteering information plus tips for setting up a neighbourhood group if you haven't started one already.  You can register for the meeting here.