Hundreds of people attended The Bicycle Illuminations, Grand Opening of Phase One of Frome's Missing Links was held on Saturday 31st of January, in the field near Low Water in Frome from 5.30 till 6.30pm. Everyone came to the event brightly lit up wearing high viz, glowsticks, flashing LEDs, headtorches, and so on – illuminating themselves and their bikes.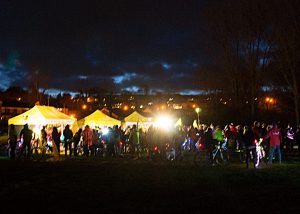 The Street Bandits kicked off the event; brightly lit up and of course looked incredible. Soo Wright had choreographed a dance and this was performed by Soo and her dancers – accompanied by The Frukes (Frome's ukulele club).
The 2 mile (4km) route, when complete, will connect Frome town centre with the Colliers Way at Great Elm, and on to National Cycle Network (NCN) route 24 which runs between Bath and Salisbury. Geoff Pell made a speech thanking all those who made Phase One possible. Geoff was also explained the encouraging news about Phase Two which just requires some local fundraising to get started as permissions and planning are in place.
Chris Smith, Frome's own mountain bike professional cyclist, performed a daring stunt by leaping over a high flaming pole. Then the Mayor of Frome, Peter Macfadyen, opened the new Cycle path on a brightly decorated Cycles Maximus trike. He led the procession of brightly illuminated cyclists, the Street bandits and all the rest of the crowd along the new cycle path (which itself was decorated with twinkling lights and glowing lights) back into town.
The project was pioneered by local community group 'Frome's Missing Links', working in partnership with transport charity Sustrans which completed the project and design work. The first phase of the path, which runs from Welshmill to Whatcombe on the outskirts of the town cost £100,000 and was financed by the Mendip District Council's Local Legacy Fund, Aster Housing, Frome Town Council, the Department for Transport's 'Linking Communities Fund' and Sustrans.
Rupert Crosbee, Area Manager for Sustrans commented: "The people of Frome have long been frustrated with the difficulty of getting to the Colliers Way. This is the first step towards making it easy and fun to get to nearby towns and some of the best countryside in England; what better way for residents and visitors to appreciate it than getting out on foot or by bike." "The short but crucial first phase of the route marks the start of a great future community resource for people to walk and cycle on a safe and enjoyable traffic free route all the way to Bath and beyond."
"We have had fantastic support from loads of organisations and private individuals who recognise the value of this project, especially Mendip Local Legacy Fund and Frome Town Council. The health, leisure and commuting benefits of this new route will ensure a brilliant return on investment; we must continue the momentum and complete the fundraising for the next phase." The second phase, which recently received planning permission, will extend the Colliers Way path towards Frome. £200,000 will be needed to complete the next phase.
Geoff Pell, Frome Missing Link commented: "It is amazing what ordinary people can achieve if they set their minds to it. We are a small bunch of likeminded people who perceived that if we didn't take the initiative, we would be waiting forever for this gap in the cycle network to be closed."
"We have had brilliant support from the whole community of Frome including two private developers who donated vital strips of land. We have come a long way, it has taken a long time, and there's still an awful lot to do. Bit by bit we'll get there, and we are now asking for private donations to help build the next phase so we can really show potential funders that we mean business, and give them good reasons to support us."
Sustrans has opened a fundraising page for individual donations at http://www.sustrans.org.uk/support-sustrans/make-a-donation. At the bottom of the 'Make a single Donation' page, please select 'Frome's Missing Link' under 'Additional details'.