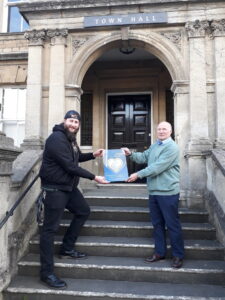 As well as being a recipient of a Mayor's Civic Award, Active and in Touch's Dougie Brown was also handing out his own awards this week.  Deputy Mayor Andy Wrintmore accepted a plaque from Active and in Touch to celebrate their 10th Birthday, to say thank you to Frome Town Council for being supportive from the start.
Deputy Mayor Andy Wrintmore said: "It was a fantastic honour for the council to be given an Active & In Touch plaque as they have so many supporters. They have done such an amazing job this past year and have expanded both their remit and their reach with such energy and insight that it is easy to support them  – so thank you on behalf of the council, and indeed the town for all the great work that the charity does."
Active and in Touch volunteers visit, help and befriend people who have become isolated or out of touch with the community in Frome and the surrounding villages. Last year they joined forces with Frome Community Drivers to make sure that isolated and vulnerable residents could still access food, prescriptions and medical appointments. In 2020/21 Active and in Touch volunteers made an estimated 8000 one-to-one phone calls with 7000 one-to-one befriending sessions.
If you'd like to volunteer with Active and In Touch or refer yourself or a loved one, please visit their website: https://www.activeandintouch.org/