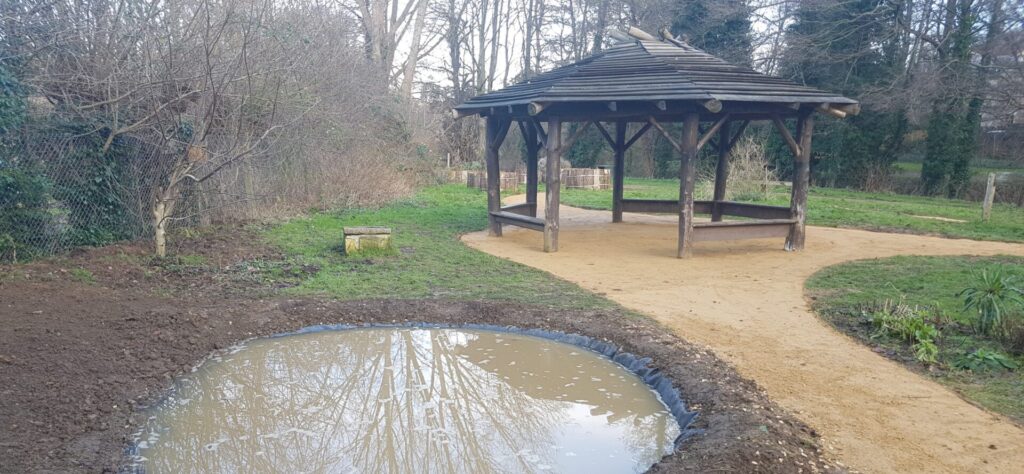 Frome Town Council has teamed up with wildlife conservation charity Froglife to create a wonderful new wildlife pond at Welshmill. Across the UK, Froglife helps the UK's reptile and amphibian species, including frogs, toads and newts. In Frome they also run 'Wild Memories' which provides nature and wildlife activities for people living with dementia and their carers.
Over the next few weeks, the Wild Memories groups will plant a variety of native plants at the pond and will sow a wildflower meadow to give a real boost to local wildlife.
Zak from Froglife said: "It's fantastic to have created this new pond and we are hugely grateful to Frome Town Council's Rangers for their support and help. In the UK we've lost over 50% of our ponds in the last century, so anything we can do to reverse that is an enormous help for frogs, toads, newts, and the huge number of other species that live in and around ponds."
The pond by the Roundhouse will also be available for community groups to use for education and learning.
Chris Stringer Frome Town Council's Environment Manager added: "Working with Froglife on this project has been brilliant. The pond is a new type of habitat next to the Roundhouse making this an important project to come from the Council's declared Climate and Ecological emergencies."
Froglife's Wild Memories groups will monitor the wildlife species using the pond as part of their weekly activities. Zak also said: "Creating a pond in your garden, no matter what size, is a fantastic way to help wildlife thrive. For a free guide check out our "Just add water" guide on our website."
If you would like to hear more about the Wild Memories group for people living with dementia and their carers visit their website or call Zak on 07949 572849.