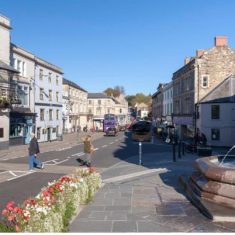 Frome Town Council can confirm that work to deliver some long-awaited improvements at the Market Place will start on the 22nd June.  This, the second phase of the improvements, will complete the work that was originally started with the Boyle Cross project and will lead to a modern and more pedestrian friendly Town Centre.
As high streets change across the country it is important to have Frome's fit for purpose to allow the safe movement of both pedestrians and cyclists, whilst allowing for other traffic.  The Market Place improvements follow earlier extensive public consultation over seven years. The key improvements will be:
Improvements to the bus stops to reduce traffic congestion whilst buses are parked
New bus shelters
New crossings on desire lines that are already popular with pedestrians from The George and from the Coventry Building Society across to the Boyle Cross
Pavements replaced and widened
Railings will be removed and replaced with bollards
A new loading bay will be provided outside the George
On street parking for disabled drivers improved in Cork Street and an additional space outside Subway.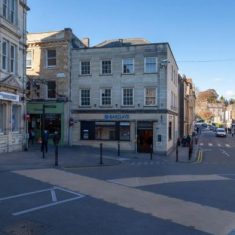 The improvements will take 16 weeks to complete and are scheduled whilst there are no major events taking place in the Market Place. Alun Griffiths Limited have been selected as the main contractor for this project following the tender process.
Whilst these works take place, the centre of the town will be closed to traffic thereby allowing shoppers to easily move around the works in a safe and socially distanced way enabling pedestrians to make use of the roadway rather than rely on narrow pavements to access the shops. With pedestrian safety in mind we are in discussion with the bus companies regarding changes to their schedule and will provide an update shortly.
Cllr Anne Hills, Frome Town Council Leader said, "Our unique businesses are a vital part of Frome's success and so we want to support them in getting back on their feet and create a good foundation on which to build the town's recovery.  At a time when the town centre is trying to encourage shoppers back, it's appropriate to make the Market Place as pedestrian friendly as possible."
"To encourage shoppers, we propose to temporarily close the Market Place to through traffic.  We will of course maintain access to all car parks and we are working with town centre traders to minimise any disruption and ensure deliveries."
Further details, Frequently Asked Questions  and the traffic management plan can be found at https://www.frometowncouncil.gov.uk/market-place-improvements-phase-2-faqs/ 
Any enquiries should be directed to Peter Wheelhouse, Deputy Town Clerk at pwheelhouse@frometowncouncil.gov.ukPublished 12th June 2020