The Frome Independent market is back this Friday for their special Night Market, which will be held at Frome's Market Yard Car Park from 5.30pm-10pm.
The market will showcase around 40 Somerset traders with a mixture of food and drink stalls, plus gift and designer products. Visitors are invited to come and enjoy the atmosphere, meet the producers, and be tempted by the delicious cuisines from local street food traders. There will be something for everyone! 
But the action doesn't stop there. Many of Frome's high street independents will also be staying open a little later to give visitors a chance to explore what Frome has to offer beyond the Market Yard. Check out Pop!, Postscript, The Little Bear's Wardrobe Hoi P'loy, Matthew Paul Interiors, Baxter, Jude's and SEED for starters.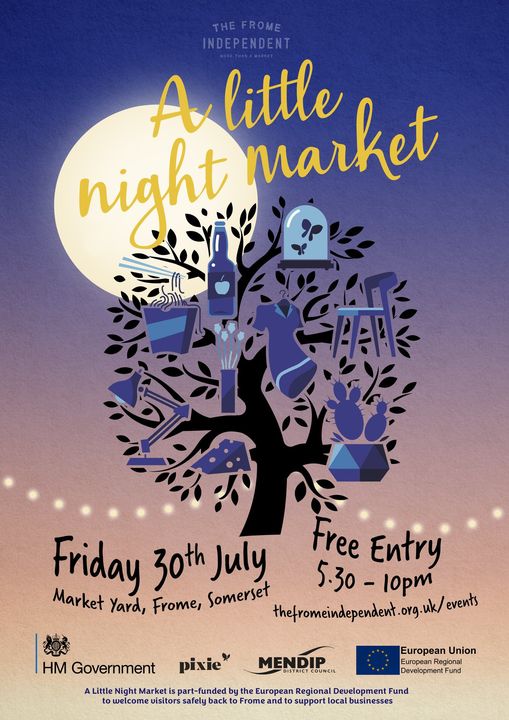 Of course all our fabulous bars and restaurants will also be open as usual to welcome you for a well earned refuel after an evening's shopping including Fat Radish, High Pavement, Bistro Lotte and Flow Bar. If you're travelling in/out by train why not take a pit stop at Station Approach where you can sample culinary delights from the Rye Bakery Burrito Boi, Hesperian Fish and Lungi Babas.
Director of The Frome Independent, Tabitha Clayson said that her team were excited to be bringing a live event back to the town:
"Our team have been working hard to bring an event that champions local makers and offers an opportunity for the community to come together once again in the town centre. While we're sad to have to delay the restart of our full-sized, town-wide markets, we're really excited by the opportunity to create a night market for Frome."
For more information The Frome Independent website.